Rubicon Flares!
11/28/04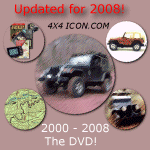 The crash left me with a few damaged parts. Among them was a single fender flare that was slated to be replaced. The dealer wanted $90 for one flare. It didn't take rocket science to figure out that one new flare was going to be screaming "mis-match". To add insult to injury, the Krylon Fusion paint job that I did to refresh the appearance of my flares was not really all I had hoped it would be. This was the perfect opportunity to replace all four flares with something a little bit more appropriate.

After waiting for five weeks for the body shop to get the parts and finally calling the dealer myself, I was told by a dealer parts guy that there were "7 or 8" Rubicon flare part numbers. While that may be true, I got the impression somebody had a babe on the other line and I was wasting his time. I got on Jeeps Unlimited and posted a message asking for a part number that was working for people with 1999 Jeeps. I got a lot of answers and they all pointed to:

82208136 $240

I ordered them, they came and they fit. One of the good things the body shop did for me was install all four flares. They cover that extra half inch that the 31's stick out and really clean up the appearance of the vehicle. They actually make the tires look smaller and the Jeep look smaller so in a way it's a "sleeper mod". I just wanted them to cover the tires...
---
Off Road Index | Shop for Jeep Toys and Books | See the Toy Jeeps
---
Photos, Layout and Design © 2004 Paul M. Provencher All Rights Reserved.
Contents of this Web Site may not be used without written permission.
Visitors Since11/28/2004
709 4/6/06