Antenna Storage Tube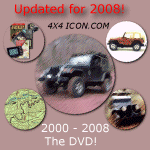 I am happy to have a "real" CB installed and like the greatly improved performance that a 4-foot antenna provides. But I'm finding reasons why the antenna won't spend every minute on top of the Jeep...

parking garage (clearance 6 feet 3 inches);
drive-through window (clearance 8 feet 8 inches);
drive-up teller (9 feet 9 inches),

and so on. With the 4-foot antenna, the Jeep brushes ten feet... I will have to leave the 4-foot antenna stashed somewhere except for when I am on the open road or on the trail. At first I thought I would just lash it to the Sport Bar but then I got to thinking....

I can't remember where I saw this - it is not an original idea, as best I can recall. I do see electricians and other construction tradesmen with PVC tubes on overhead racks all the time. So I decided that this would be a good place to store a CB antenna.
I went to the home store and located some black PVC tubing. I got one 5-foot long, 1-inch diameter tube, a couple fittings to close one end permanently and to make the other end so that it could be opened and closed on demand.
I picked up some more stainless-steel U-Bolts for mounting the finished storage container to the rack.
I chose the 1-inch size since I am planning on getting another antenna, probably 2-feet long, that I can use "around town". I chose the 5-foot tube because it is long enough to hold the 4-foot antenna with room to spare for the spring or perhaps other things. I padded the closed end with some foam so that the antenna does not go too far in, and so it won't rattle around
I found a brass fitting at home that fits the antenna threads perfectly, so I glued it to the cover of the storage tube so that I can thread the antenna onto it, trapping the lock-washer that I use, and thereby securing it to the storage case. This makes it easy to pull out when it's time to install it, and gives me a place to keep the lock washer.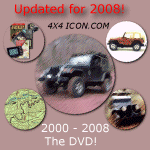 Return to Jeep Specs Page
Shop for Jeep Toys and Books | See the Toy Jeeps | Off-Road Index
---
Photos, Layout and Design © 2001-2008 Paul M. Provencher All Rights Reserved.
Contents of this Web Site may not be used without written permission
Visitors since 6/10/01
Last Updated 02/09/2008 04:16:49 PM -0500
3446 4/6/06