Prologue

On the way to Oakland to meet Hugh, I stopped at the Sideling Hill Exhibit Center. I had always wanted to stop here but always had a schedule when passing through in the past.

I was planning to get the Department of Natural Resources permit when I got to Oakland but the park office opened at 1:30pm that day. This meant getting started late, with a very long drive home after trail riding. Not a great combination. I decided to try the Green Ridge State Park since it was right on the way and probably was open. BINGO! I paid my money and got my sticker (and paper to keep in the Jeep) along with one for my buddy (I scribbled in his signature with his permission to proxy...) I had to have all his info too so do not go unprepared. You can get more info here. Note: 10/29/03 The sticker is required for vehicles that are not road registered. I learned later that I did not need this sticker for my Jeep.

Once I got this out of the way, I continued up Rt. 68 West to Rt. 219 South into Oakland (past Deep Creek). Met up with Hugh Long and got a bite to eat.

We kicked it around and decided to do the trails below. The first one was so-so, the second was great.
Trail

Garrett Trail: It's exactly like Forest Road 72 (the street-rig access road to Clines Hacking on Second Mountain) crush rock graded surface on a relatively flat, pretty, but totally unchallenging terrain. This is the road through the campsite and picnic area. It was so smooth I didn't even have to stow the Voodoo Jeeps...

Verdict - take your Honda Civic and your biggest thrill will be getting dusted by the car in front of you. - This is not a trail...

Side Comment - there were many, many side trails, all hidden behind yellow closed gates. One side road was open and we followed it to a dead end.

There was one place where a huge tree had fallen and the go-around was a four point turn for a Jeep - anything bigger would not make it (easily) and other than that, it was an easy ride. Not worth a three hour drive to get there. Backbone would fix that....

We went back into town and I did some shopping at the world-famous Oakland Pharmacy - got myself a couple YJ's! We stopped at Englanders where the young lady gave us the bottom of the pot of coffee for free. Not bad!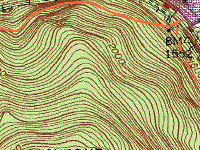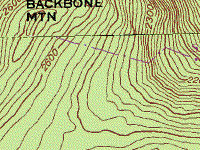 Backbone Mountain

We drove out from Oakland on Route 135 and located the trail head just past Swanton Hill Road
This one made the drive worth it for me. It starts out dead-easy but after maybe a mile in it forks. There's a forest gate that we found open.

The right fork was left un-explored. The left fork, behind an OPEN yellow gate immediately deteriorates into butt-clenching, hill-hugging rocks, mud, 400 foot drops on driver side, and lots of low low overhead.
There were many places where incredible views could be seen through the trees. We stopped at one outlook and spent a couple minutes looking off the cliff and extinguishing a fire that someone had left smoldering.

We have damage commander... This trail is not an obstacle challenge, but if you are at all wide, you are not going to be able to see road under your left wheels... Very much a trail to concentrate on the driving. It has the feel of Gauley Ridge portion of Old Long Run but it is nowhere near as wide. There is one spot (of a few) where the erosion has created a mud hole. When I crawled through it (1st-LO) my rear end slithered out of it much closer to the edge than I would have liked. It goes like this for 5 miles, down, down, down, and here and there up, up, up. The view to the left breaks through every now and then and you can see a valley at the bottom and rising steep ridge on the other side.
We followed one switchback that went down to the railroad bed. Hugh took a walk to check out the trail he saw on his GPS located on the other side of the tracks. We talked but since there was no crossing here, we decided not to be dumb and try crossing the tracks. That was a good thing because just as we were returning to the Jeeps, parked well off the railroad right of way, a freight train came rumbling through. Had we been a couple minutes earlier and decided to try crossing (there were three sets of tracks), we would have been on the tracks when the train came! Not cool...

Updated info 6/29/04: Near the spot where we went down to the railroad grade is Hitchcock Tunnel and near that, Strecker, a switch location. I found this article on the web and archived it against loss:

Back on the trail I stopped to take a picture showing the drop off to the left of the trail. It doesn't even come close to giving an idea how far down it really is.
We followed it down to the rail-road tracks and a crossing that appears to be there only for a house there in the middle of nowhere (Ford Expedition or something like that parked in the "driveway"). We crossed the tracks and passed the reservoir on our way back out to the road.
Epilogue
In some sort of lucky moment, I spotted a fly fisherman down in the creek with waders, flicking his line in a shaft of sunlight. I actually had time to stop, get a camera out, go over to the edge and get permission to shoot, then shoot a sequence of him catching and releasing a beautiful fish! It was Field and Stream all over. I left a note for him (Hi there) in case he wants to check here to see the pictures.

Then on through Keyser on our way back to Rt. 68. We stopped at Denny's for supper. Hugh headed home and I hit the car wash before going home as well.

Verdict: If you like Old Long Run/Second Mountain, you will like this and might even get a few puckers out of it in the bargain. We did not continue down the trail where it continued from the tracks but I think it just goes on like that, around the brow into the State Park.

Asides: The local gas-jockey told us that the Potomac River Trail System is also pretty good. We had to pull up and leave so we could get back, but it was in the same vicinity. If we had not wasted time on the Garrett Trail, we probably would have had time for this one. That leaves it for next time.

Damage Report: One dented-in factory transfer-case skid plate. I am quite surprised actually - don't remember tapping anything that hard but it might have been the same underwater rock that Hugh found with the support bars that hold on his TJ steps. He "modified" the edge of his transfer-case skid plate where it bolts to the frame and used the same rock to flatten out the bars that hold on the step. Other than that, I took one pretty good slap on my Sk*d R*w Engine skid plate with nothing but scratches (sorry Helen), and continued the abuse of my Tomken "low rider" gas tank skid plate. I must conclude that a stock undercarriage would be able to make this ride but would have to tip-toe through some of the rock gardens like Hugh did.

Off Road Index | Shop for Jeep Toys and Books | See the Toy Jeeps