6/20/04 Father's Day
Click on an image or highlighted text to follow a link.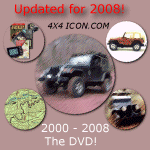 ---
Picture File List
Image
Name
Size
Description
Ted and Tom at the Herdon Travel Bug Hotel
81K
6/20/04 Father's Day
Geo-Cache Site Log Entry
The third in a long list of visitors today. Followed a blue herring on a hunch about the clue. It lead to a dead-end party spot under some power towers. The kids and I finally worked the grid and found the coords for the second part. Not a soul in sight. Learned a lot about the plumbing and wiring of a parking lot on this one! Agree a slightly higher difficulty rating on it might be warranted but I am new to finding with a GPS, things smaller than well... a car.

Found the second part, the ammo case container. Had two geocache carry-out trash bags in film canisters, one nicely decorated Sucrets or Altoids tin, a pin with Cyrillic alphabet (? sp?). Took the Coleman keyfob/compass/thermometer (the only remaining item) and left the '69 Dodge Charger in a stray plastic bag found at the site, and signed the log,
ppro, Teddy and Tomi

P.S. Also found a life-sized ladybug toy in blue plastic - (very small) - placed it in the cache in the off chance that it was part of something?

Return to 6/20/04 Father's Day
---
Photos, Layout and Design © 2004 Paul M. Provencher All Rights Reserved.
Contents of this Web Site may not be used without written permission.
20-Jun-04 11:06 PM