KC Light Cover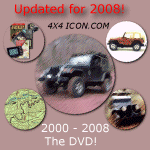 I was at a pre-run prior to the Jeep Jamboree in 2002. One of the guys in my group had a spare set of covers he had purchased for his Jeep running lights. He gave them to me so I found a home for them on my Jeep. I quietly painted the "KC" logo black with Vinyl paint. I just wanted to tone them down some!

| | |
| --- | --- |
| | |
| Before | After |

They don't do much but keep the chrome of the lights from messing up the black thing I have going on...and maybe protect the lenses from getting cracked.
Return to Jeep Jamboree Pre-Run | Jeep Mods Page
---
Photos, Layout and Design © 2004-2008 Paul M. Provencher All Rights Reserved.
Contents of this Web Site may not be used without written permission.
10-Mar-04 05:57 PM
Last Updated 02/09/2008 10:37:00 AM -0500