Fix-A-Flat Storage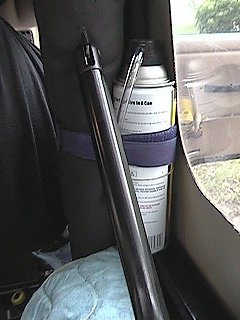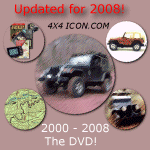 You'd think it was a silly product, and in a way it is. There are only limited types of punctures that a can of Fix-A-Flat will temporarily cure, but even then it can be a handy thing to have along. It is a self-contained air supply and will stop a slow leak pretty well. I lashed mine to the top support using a Velcro strap. I generally use whichever can is oldest and replace it as soon as possible, so that it stays fairly fresh.

Update: I received a few comments to the effect that the location I chose for storing the Fix-A-Flat was not a good one. It was suggested that it could accidentally get crushed and explode. I decided not to tempt fate and relocated the Fix-A-Flat to my Add-A-Trunk where it is more protected and contained in the event of an explosion.

6/28/03: Finally used the Fix-A-Flat - on a little girls bike at the campground - it kept her in action and my boys busy riding. I still have enough left for a truck tire.
Return to Jeep Build Index
Shop for Jeep Toys and Books | See the Toy Jeeps | Off-Road Index
---
Photos, Layout and Design © 2001 Paul M. Provencher All Rights Reserved.
Contents of this Web Site may not be used without written permission
Visitors since 6/3/01