Edelbrock IAS Shocks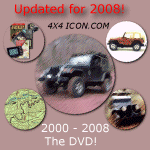 Jeep Shocks (Above)
My friend Jim upgraded his tires to a larger size, and installed a lift. When he did, the shocks he was using were not long enough for the new suspension so he removed them and set them aside. Eventually, I bought them from him with about 18,000 miles on them. I had been using factory 30" Wheel package gas shocks that I picked up used from someone who installed a lift as soon as they bought the Jeep. Before that, I had the generic shocks that come on steel-wheel Jeeps.

I wasn't sure what to expect from these shocks. Jim said he loved them and after running the Doetsche-Techs, will probably go back to the Edelbrock. I value his opinion and often find myself reaching the same conclusions as him, independently. So when he offered me his "slightly used" shocks, I got them.

I had to get some shock boots which my friend Carl so graciously picked up for me at OK 4WD in New Jersey.

The Edelbrock web site explains the theory of the design better than I can - just click the image at the top of the page and go there.

Basically, they claim that the shocks respond to chassis and wheel inputs differently, giving the best combination of actions to control cornering, pot-holes, rough roads, etc.

In my experience I find that they hold the Jeep pretty stable when cornering, give a nice tight ride when driving on the highway, and suck up sudden bumps like the bump wasn't there.

I am pleased with them both on and off the road.

Shock Installation

The installation is typical of all shock installations. I simply removed the old shocks and replaced them with these. When the boots came, I put them on. There really isn't much to explain. The fit of the bottom of the rear shocks was a little tight and I had to spread the shock mount a tad to fit the shock in place before tightening the bolts.

Return to Jeep Specs Page
Shop for Jeep Toys and Books | See the Toy Jeeps | Off-Road Index
---
Photos, Layout and Design © 2002-2008 Paul M. Provencher All Rights Reserved.
Contents of this Web Site may not be used without written permission
Visitors since 12/04/02
Last Updated