The Second Great Meat-n-Greet at Coopers Rock
and
The Bridges of Greene County
7/28/07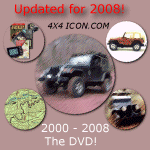 Prologue

I placed a reminder on my calendar for the upcoming Geocaching meet-and-greet that was scheduled to be held at Cooper's Rock. I was planning to go with Maria and the kids if things worked out on our schedule for that weekend. It turned out that Maria and the kids did some touring in New York so I was free for the weekend. Coincidentally, Mike suggested going to the event and then spending the afternoon out shooting, perhaps visiting several covered bridges in Pennsylvania. It sounded good to me so I sat down and plotted a course for the caches after the event.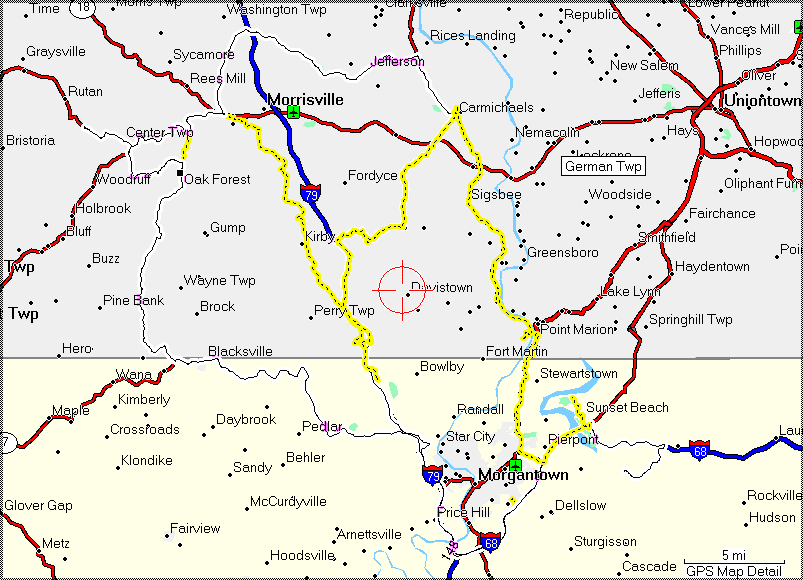 Muster

Mike met me at my house and we drove over to the event together.

Trail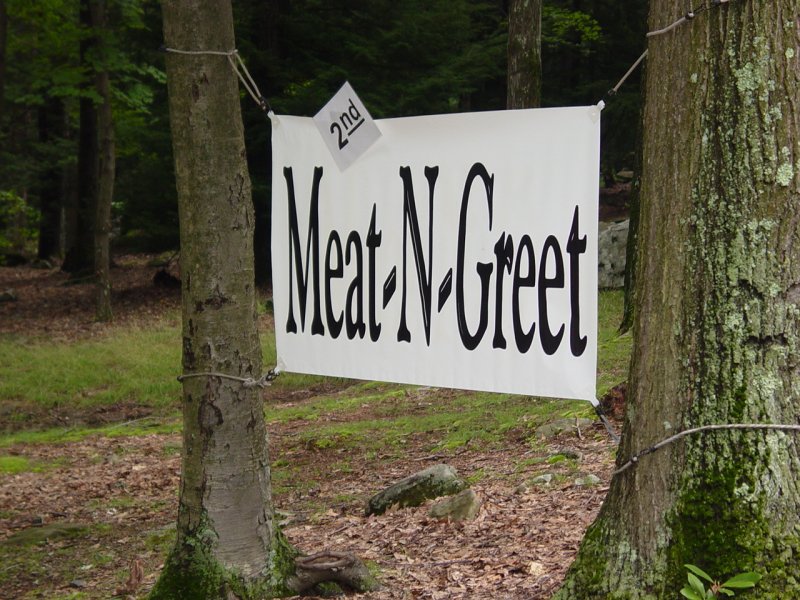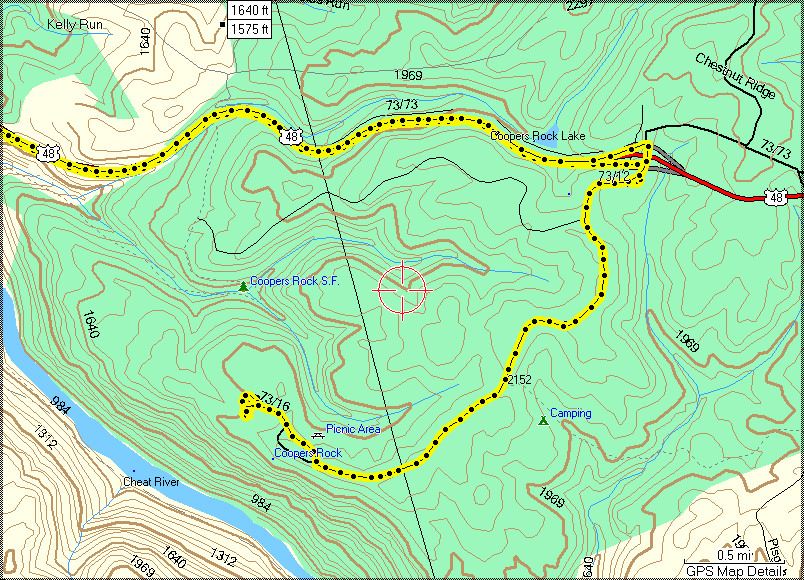 There was a decent group pf people at the event. Well organized, it offered a number of activities for all ages. Just about everyone there was engaged in some form of geocaching related activities. We mingled for a while.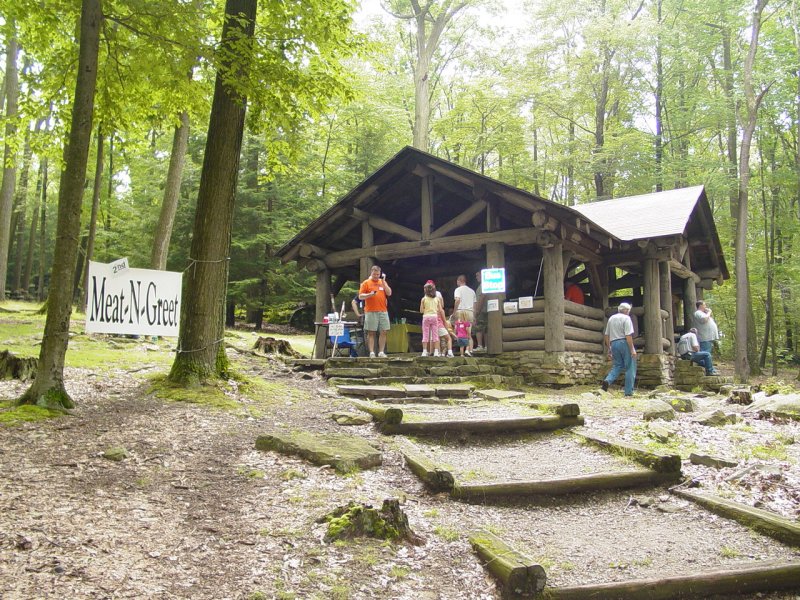 I logged some travel bugs that I harvested from the boys and my caches the night before, and discovered some travel bugs and coins that were on the table in the pavilion.
We grabbed a bite to eat and after checking out, hit the road for Pennsylvania.

The Bridges of Greene County (PA)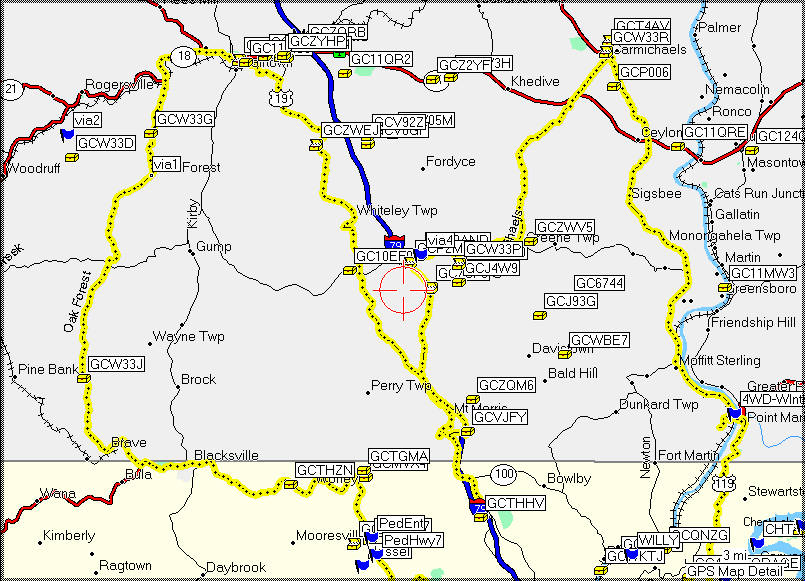 Once we got off the highway near Morgantown, we enjoyed a nice afternoon on the back roads of south-western PA.

The Bridges of Green County #

GCW33J - The Bridges of Green County #4 - King Bridge

Our first stop was at King Bridge.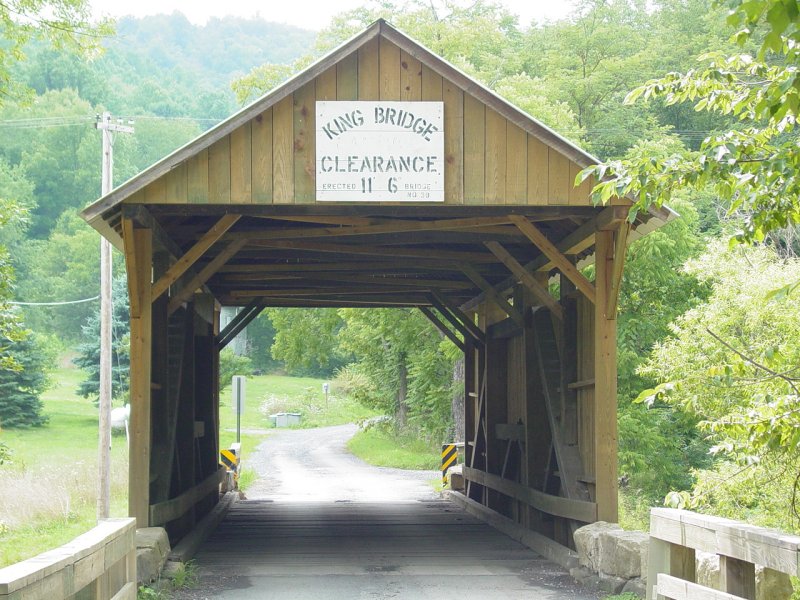 We looked around for a few minutes and Mike found the cache.

The bridge is nicely restored with many of the original structural members still in place.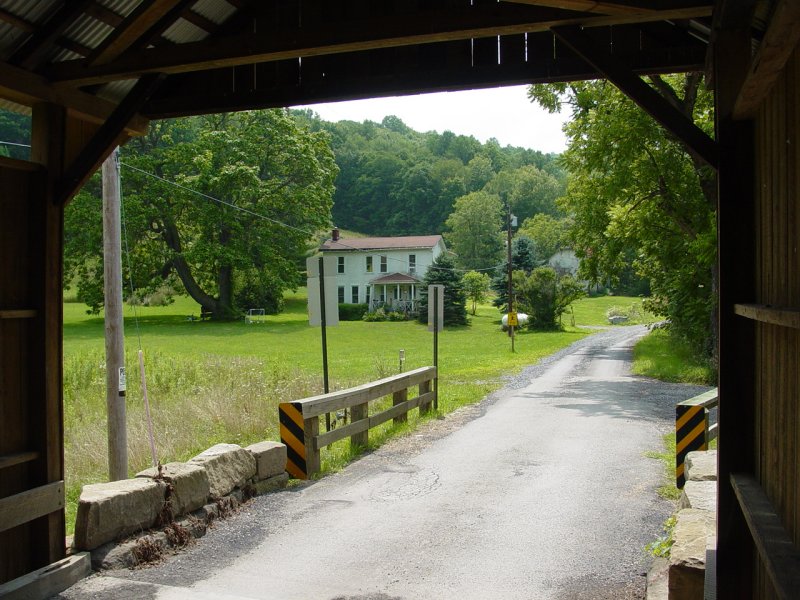 As we left the bridge to continue our drive, I could not resist stopping to take this photo that was evocative of recent exploits...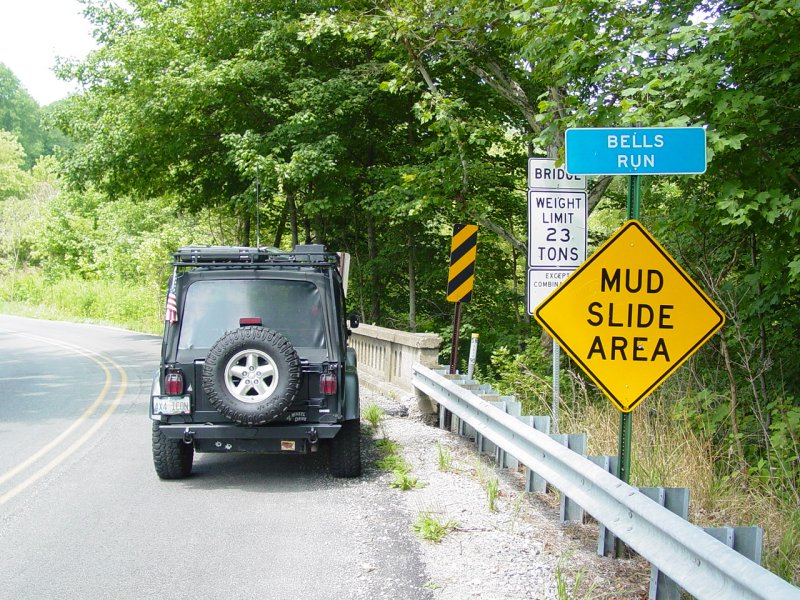 GCW33G - The Bridges of Green County #3 - Wood's Bridge

Soon we reached our second cache location. This bridge was vexing - we did not find the cache. It's probably there but our careful inspection of the bridge (constrained by the guidelines of the cache creator) focused our attention on easily accessible portions of the bridge.
Beyond the bridge lie a farm. But for the modern signs and power lines, and maybe the vehicles, this farm looks much as it might 100 years ago.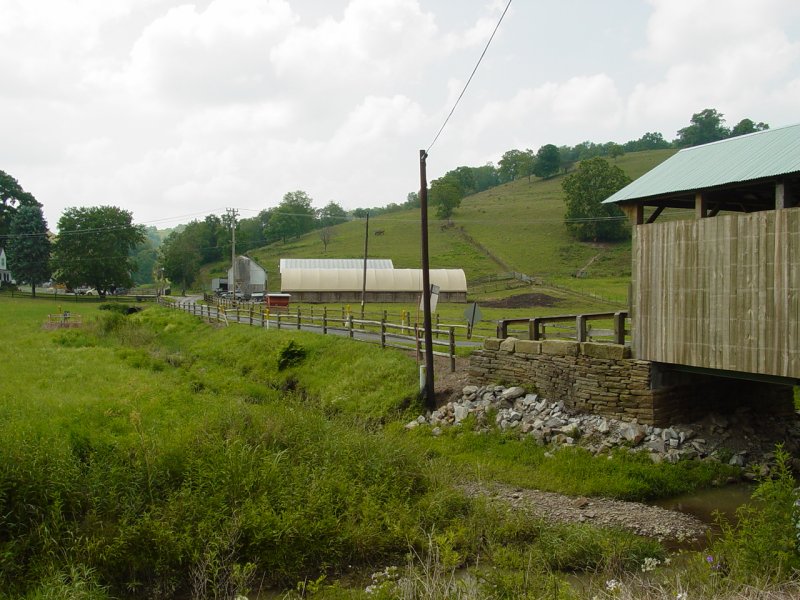 Mike still looking for the cache...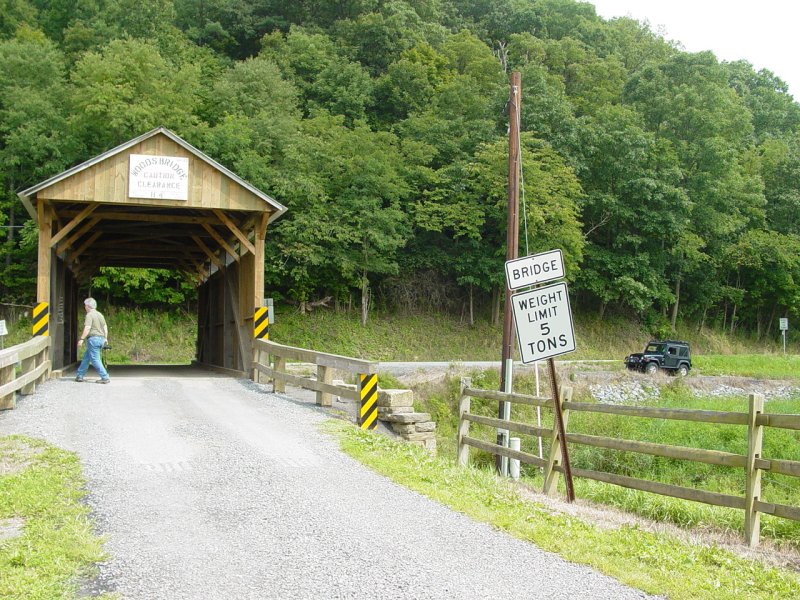 We concluded our search with a "DNF" and headed out for the next cache. When we stopped at this point, I terminated navigation of the route I had planned for the day. That in combination with the way the GPS works caused me to miss turning left and driving over this bridge to our next destination - another bridge - so we missed two bridges and ended up in Waynesburg on our way to another bridge. I spotted a couple of caches and suggested we try them.

The Log Courthouse stands out in the center of town even though the other buildings are not recent. This building has a very "frontier" look and feel to it. The cache hide was quite clever, but Mike and I managed to find it after a few minutes of looking around.
Nearby was another cache so we drove over and gave it a try.

I knew I was in trouble when we pulled up to this one. There are so many places to hide something small on a tank that I wasn't very confident I could find it, if the first several places I checked did not give it up. The sign asked that we not climb on or under the tank so with those constraints we searched for about 20 minutes.
No dice! We left this one behind without finding the cache!

As I drove along, another cache surfaced on the screen and appeared to be easily accessible. So I turned off and up the road to the top of the hill amidst a cemetery. I soon located the cache.
The view was spectacular though the atmosphere was very hazy so picture taking of the distance was not worthwhile. I imagine this would be a beautiful place to visit in the late fall or winter!

After this cache, we drove along and it soon became apparent that the GPS route was unsatisfactory. The unit had inexplicably decided to ignore the via-points in the route I had loaded and was trying to take me to my final destination (HOME). As we still wanted to visit some bridges, we ignored the routing and worked our way back to I-79 and then headed back North.

Just before we got on the highway we stopped at this place to check the cache out. I soon figured out it was atop a hill behind the truck stop. There were lots of bushes and thick growth on the side of the hill and an easy path did not make itself available to me. So with Mike sitting in the Jeep I decided to bag this for another day when the bushes were dead.

GC7CF3 - Coal Miner's Monument

Up the highway we stopped at a welcome center and visited this monument. It describes one of the tragic mine accidents that happened directly under this spot. I spent a few moments thinking about the people who lost their lives here, and took some pictures of the monument.
Then Mike suggested a few caches that he knew, so we went to them.

Just off the highway is a convenient cache for travelers to exchange travel bugs. Nice and easy. It looks like the area is in a state of change so this place may look different as time goes by.
Mike waited while I visited the cache and signed the log. He's already done this one.

We stayed off the highway for the rest of the afternoon. Nearby the travel bug cache, was another cache on a well concealed wildlife management area near where Whiteley used to be.

We parked in the WMA parking area and I hiked up to the Whiteley cemetery.
After a few minutes search I found the cache. The stones are quite old and the area appears abandoned.
GCW33P - The Bridges of Green County #7 - White Bridge

We continued to the next of several covered bridge caches. This one was quite interesting and perhaps one of the more photogenic bridges on our trip. We spent some time locating the cache and making photographs.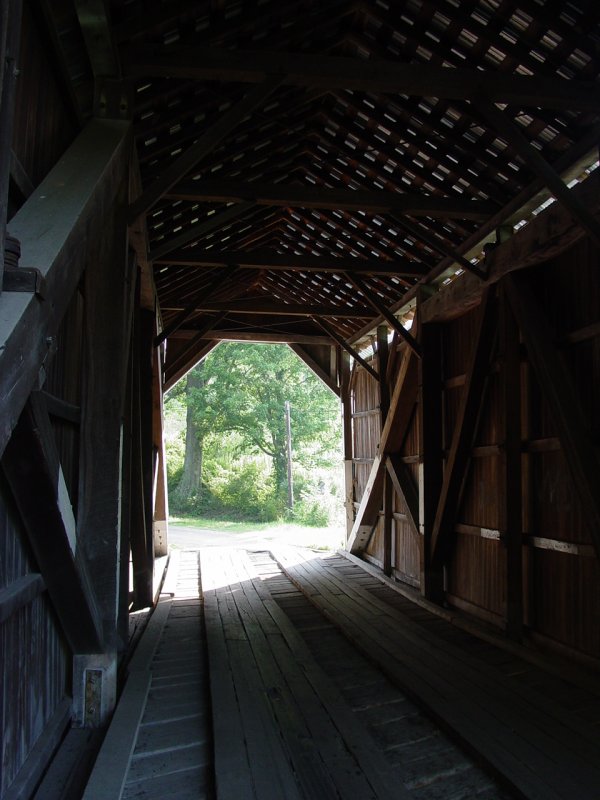 As close as we were to this cache (walking distance from White Bridge), it made no sense to pass it up so we walked out to it and logged a soggy find. The meadow had been mowed and it was a nice walk along the stream back to the Jeep.
The Bridges of Green County #6 - Carmichaels Bridge

The last bridge on our route was Carmichaels. We parked nearby and spent some time looking for the cache and making images. This is a very busy bridge so we also dodged quite a few cars!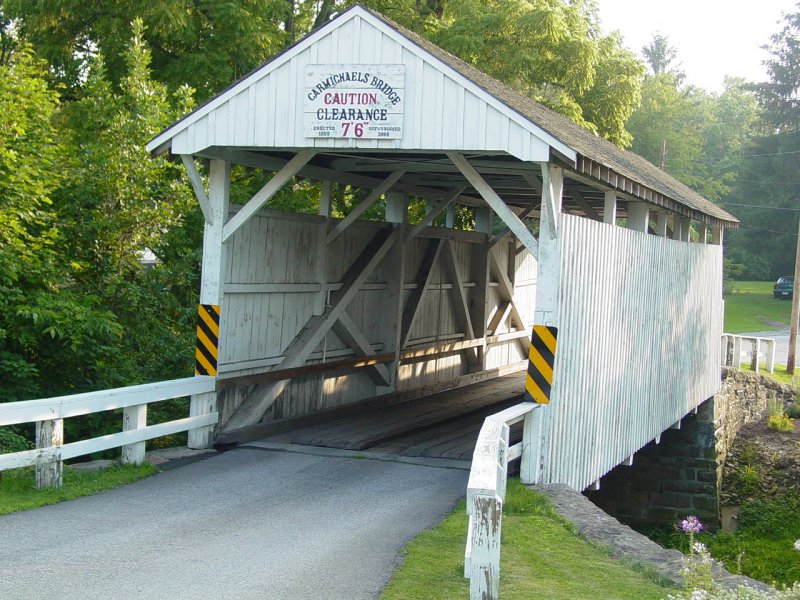 The whole town (Carmichaels) was very interesting. There are lots of old buildings and still lots of signs of life.
One more cache was close so we drove the short distance and took the short walk.
GCT4AV - Laurel Falls Point Cache
One of the things I am discovering as I go in search of geocaches is the wealth of local spots that don't make the tourist lists but still have something to offer. It's good that they don't all become famous because they would lose their charm. We walked down to the cache through a newly created recreational area complete with a new pavilion and some interesting benches. It appeared they were still working on the ground in preparation for opening sometime in the near future.

The cache was pretty easy to spot. Mike did the honors.
I had spotted a Fox Den pizza place on the way in so suggested stop there to eat. After we had something to recharge our batteries, we drove the back roads to Point Marion, PA where the road crosses the Monongahela River. An old waypoint that I had put on my data base almost two years previously popped up. It was my mark for Walnut Hill. I had heard this was a spot where local people when 4-Wheeling so I drove up to the top to see what I could find.

Walnut Hill, Point Marion

The most likely 4-wheeling was a spot that looked like an area that was being developed for a while but work had stopped. It was not the kind of 4-Wheeling I like to do (trespassing and mud holes are not good elements...) so I figured we'd just turn around and go back down the road on our way. But this curious fellow was standing by the road watching us and I could not resist stopping to chat with him and to make a couple images of him.
I was also interested in exploring the northern passage over the Cheat River and a way to get home that did not require me to go all the way down Route 119 to Exit 7 on Route 68. It appeared on the map there were some options but because it was late, we went down 119 and then to the house.

Epilogue

This day marked the most geocaches I have found in one day. We really enjoyed the bridges though we still have a few left to visit.

The next day I took an exploration and found the northern route from Point Marion to my house. I had a couple of false starts as roads that run close to Cheat Lake end at gates or at the geographic boundary where the high ground goes down to the river and the road was never connected to the other side.

All it all it was a very full weekend with many new places seen!
Return to Off-Road Index
Shop for Jeep Toys and Books | See the Toy Jeeps | Jeep Specs
---
GPS Waypoint Data
Greene County Waypoint List
Update 1/5/2008: GPS Data now provided in GPX format for easy transfer to your GPS!
Purchase GPS Waypoint data and access to topographic maps of this trail using Pay Pal!
GPS Waypoint data is now available for a moderate fee ($10.00 U.S.).

This contribution allows us to maintain this web site, collect and maintain GPS waypoint data, and periodically verify its accuracy. All GPS Waypoints have been verified in the field.

If you would like to purchase the coordinates for this trail, simply complete the two questions below and click "Buy Now" to pay for your purchase using Pay Pal.

For a free sample of how our GPS data is presented to our customers, click here.
IMPORTANT - After you pay with PayPal be sure to click the orange button shown circled below from the PayPal Payment confirmation Screen to go to the GPS Data you purchased!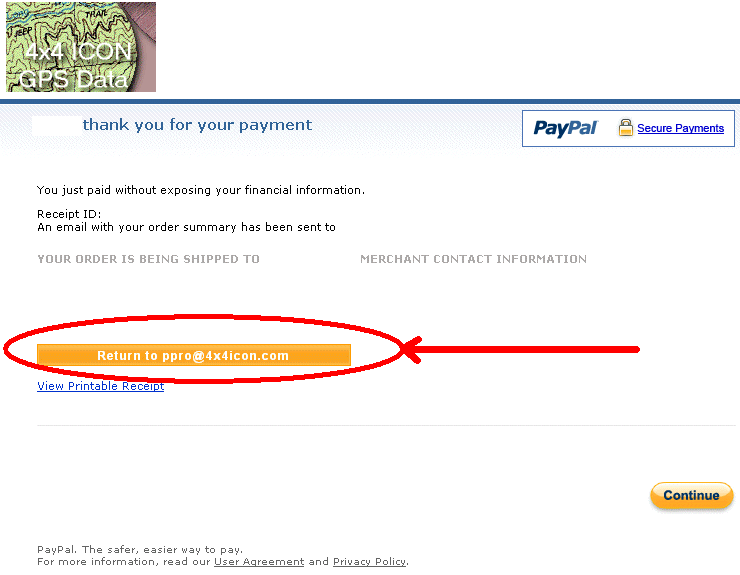 ---
Photos (except as noted), Layout and Design © 2007 Paul M. Provencher All Rights Reserved.
Contents of this Web Site may not be used without written permission
Visitors since 8/6/07