Henry Clay Furnace / Evil Sorcerer's Castle

November 4, 2006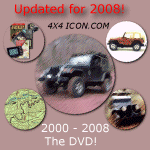 Prologue
We had some time to get outside so I looked up a likely nearby Geocache. The Evil Sorcerer's Castle suggested itself because it was so close, up at Cooper's Rock, and because it looked interesting.
Muster
I got the kids fed some lunch and around 1:00 PM we headed out. I wanted to test out the new device I bought to use with my GPS, a Palm m100 to store tracks and waypoints on during trips. So I brought it along with the cables.
Trail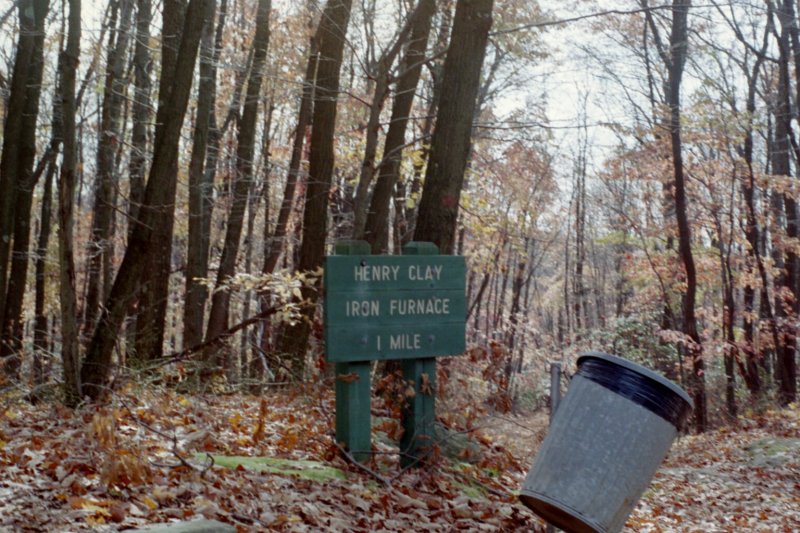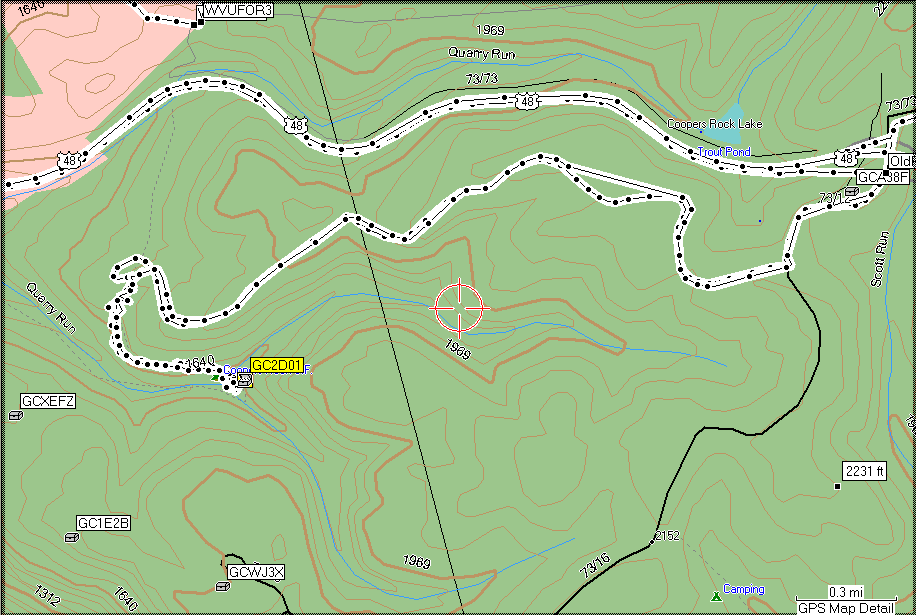 We parked at the dead end and gathered our stuff up. The boys had brought their film cameras and I my digital.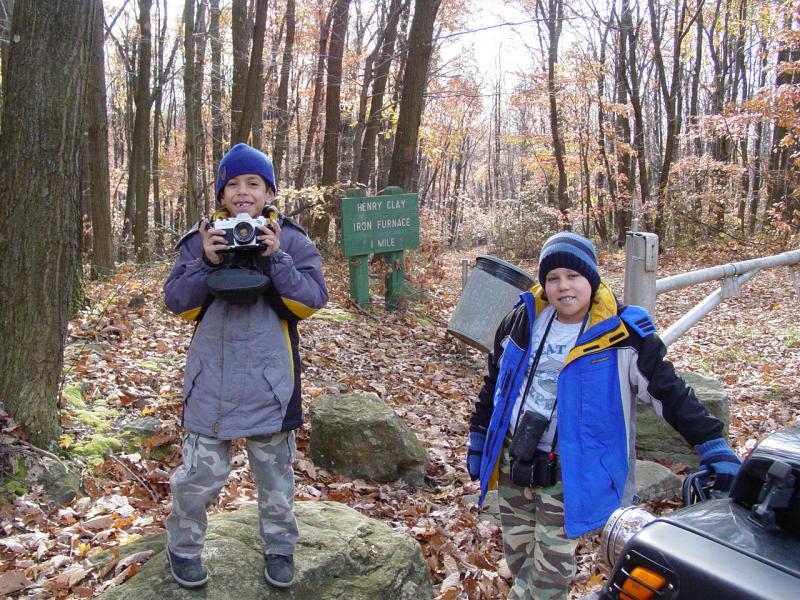 We had also brought a tripod and long lens but the sign at the trail head said it was a 1-mile hike so we decided to leave it behind. The hike was nice but none of us would have liked having that big stuff to carry. We lamented forgetting our trekking poles and resolved to store them in the Jeep from now on.

The walk was about 1/2-mile each way. The trail was covered with fallen leaves that hid the loose rocks underneath. So we had some tricky footing down to the furnace.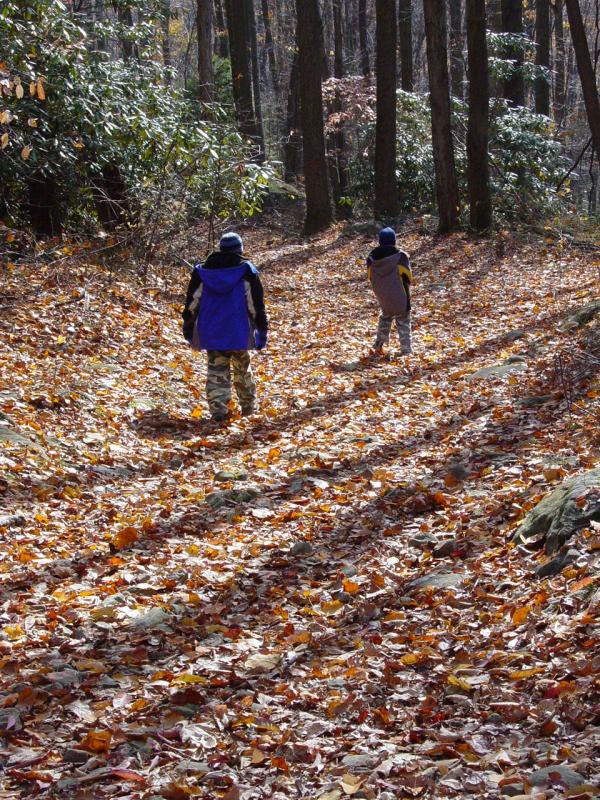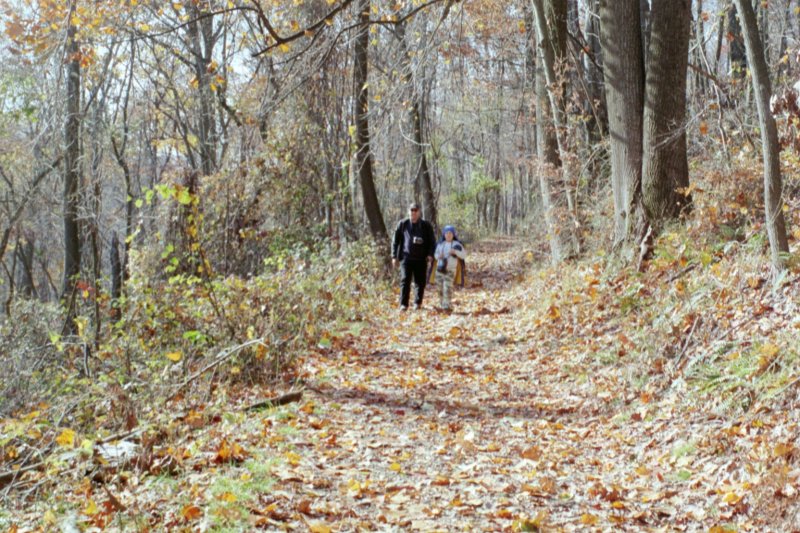 Soon we reached the furnace.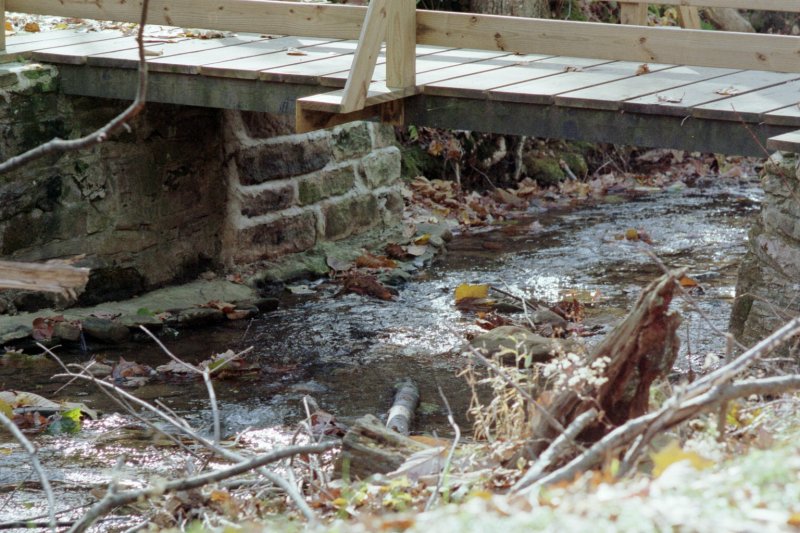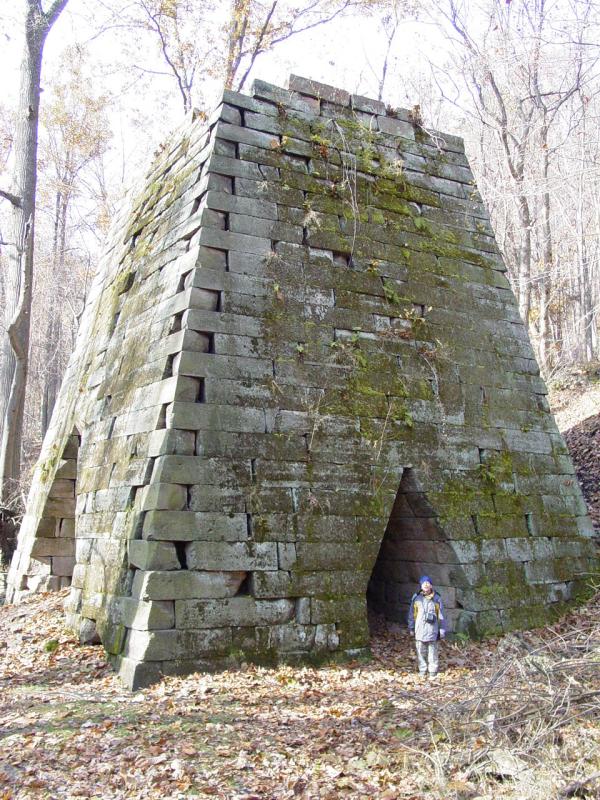 We didn't expect it to be so large. The photographs I have seen left me thinking it was nothing more than a large fireplace. On the contrary it is huge.

Here is the inscription on the sign nearby:

"Henry Clay Iron Furnace

Henry Clay Iron Furnace, located on Quarry Run, was built between 1834 and 1836 by Leonard Lamb for Tassey and Bissell. It was a coldblast furnace and produced 4 tons of pig iron each 24 hours. It was one of several furnaces that were operated in this area during the nineteenth century and was used until about 1847.

About 200 people were employed at the furnace. It was the center of the community of over a hundred dwellings with a store, church and schoolhouse.

Ownership of the furnace was conveyed in 1839 to the Ellicotts who built a system of wooden railed tramways that ran through the mountains connecting the furnaces and ore pits. Until 1845 all of the iron produced was floated down the Cheat River.

The pattern of industrial development is constantly changing. The iron industry cycle on Cheat Mountain is now complete."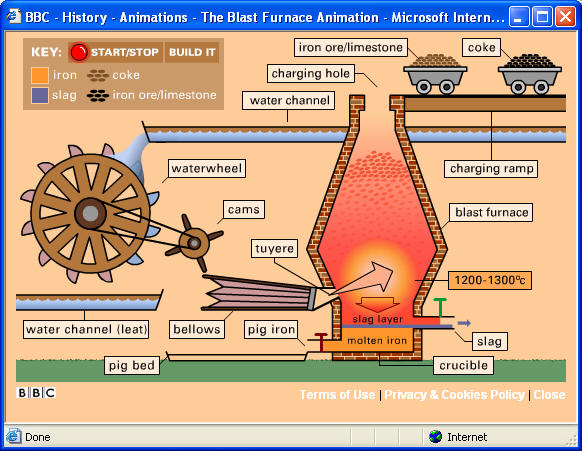 Only the blast furnace itself remains though appears to be deteriorating enough that it will eventually cave in.

As our trip included the objective of locating the nearby geocache, we headed out to locate it. Soon enough we had climbed to it, located it and made our entry in the log.

We forgot our geocaching stuff so we didn't take anything, though I did inaugurate the geocoin that ScoutingWV gave me.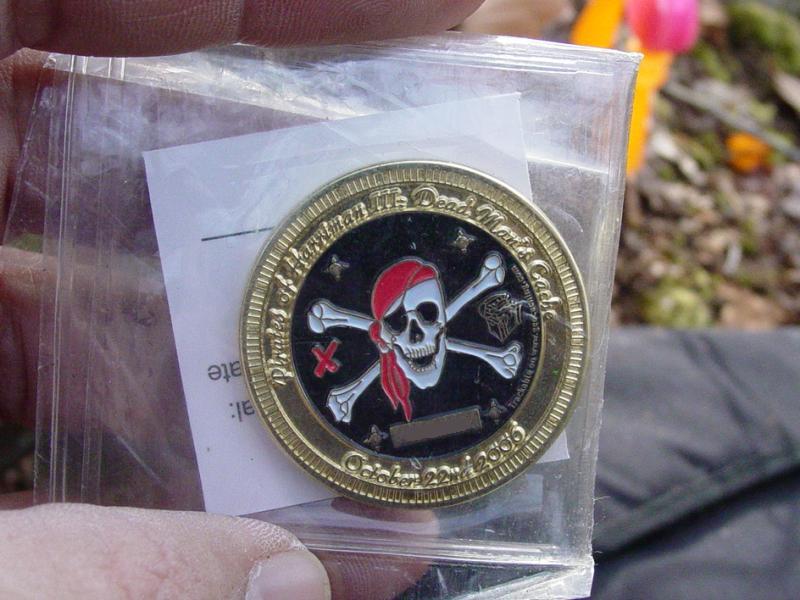 We went back down to the furnace, took a few more pictures of the outside and then, egged on by Tom, checked out the interior.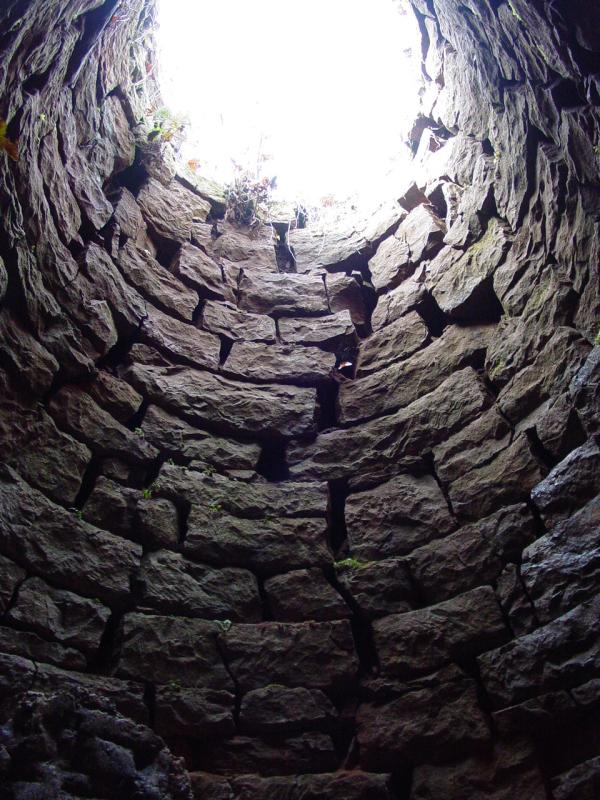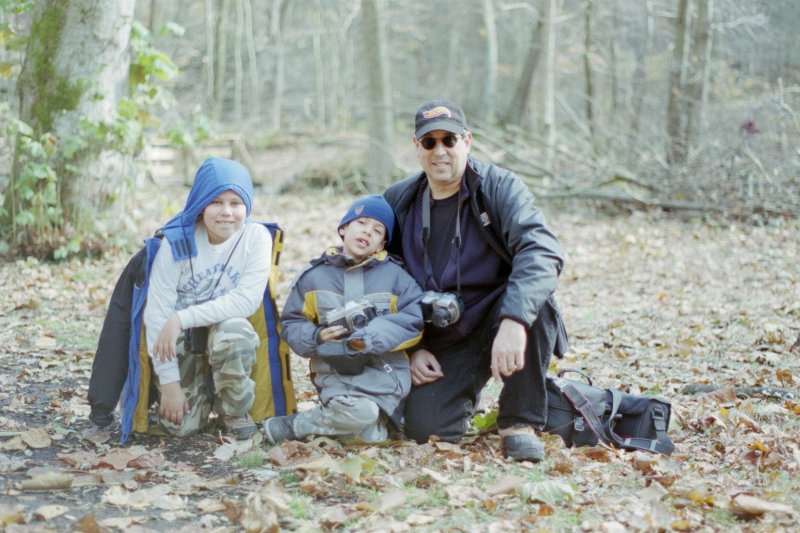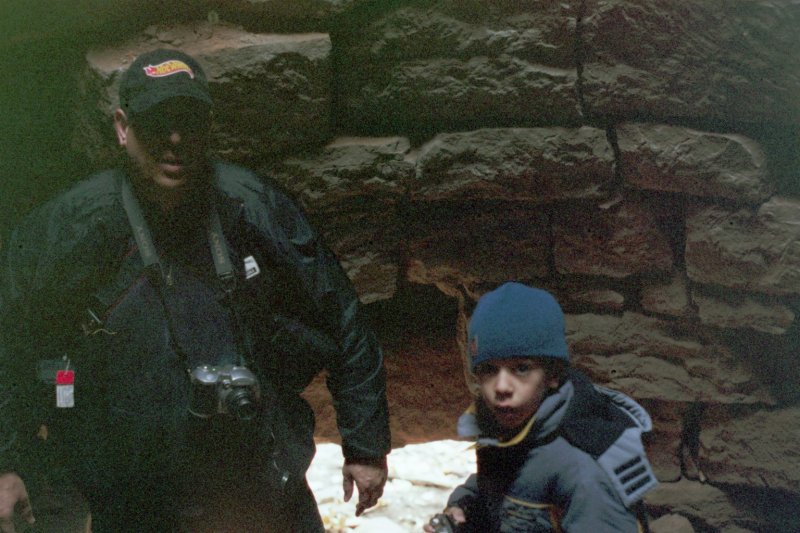 When we came out there were some people around. We said Hello, and then headed back to the Jeep.

I completed my experiment with the Palm m100 by uploading the track from the GPS V to the Palm. Works great!
Here are some links I found for more info about Cold Blast Iron Furnaces

Appalachia Blacksmiths Association (excellent account of this furnace and the Cheat Lake area)

Old Cut Stone Iron Furnaces of Western Pennsylvania

Cornwall Iron Furnace Tour (shows all the ancillary buildings and equipment that are typically missing today)

How a Blast Furnace Works (modern)
Epilogue
We drove to Dairy Queen to get a snack and then home. Another nice day on the trail!
---
Off Road Index | Shop for Jeep Toys and Books | See the Toy Jeeps
---
Photos, Layout and Design © 2006 Paul M. Provencher All Rights Reserved.
Contents of this Web Site may not be used without written permission.
Visitors Since 11/4/2006