It would be fair to say that while my wife has be supremely tolerant of the progress of my Jeep modifications, she has not exactly taken to the pursuit of "four-wheeling". She tolerates my interest and single-mindedness as a true sign of her love for me. But she does not share my passion. That is OK. We have other things in common and our relationship is quite rich. Sometimes it is surprising how we connect. For example, we were looking for something to do with the kids one Sunday morning, and she suggested we go down to Fletcher's Boat Ramp, just outside of Washington, DC, and rent some bikes for a ride on the C&O Canal.
Hmmm. I'm a bike rider from way back. I started out riding a one-speed bike, trail riding before it was such a big sport, and graduating to a series of "racing" bikes until I acquired the pinnacle of production bikes, the Raleigh Professional. That was back when pro bikes were still being hand-made in Worksop, England in the Carlton works. The material was Reynolds 531, double-butted tubing, and the components were exclusively Campagnolo Record and Super Record. Back to the story at hand, here was my wife suggesting we rent some one-speed bikes for a ride up and down the tow path.
At first, my mind went into silent super-snob mode. "There is no way in hell I am going to ride a bicycle that costs less than one of the Campagnolo brake calipers on the pro bike in my basement, that 2000 someone-elses have ridden for the last 15 years..." Then it hit me. My pro bike was sitting in the basement, in well cared for, but very well used condition, with two wheels that needed truing. I realized that the dirt tow path was no place for my silk sew-ups, even if the wheels were OK and my body could actually pull it off. I quietly admitted to myself (and later to my wife) that I would have to suck up my pride and go along with this rental idea. It was sounding better all the time, and I missed bike riding enough to give it a shot, if only just this once...
So we loaded the kids into the Jeep and drove down to Fletcher's. We walked up to the rental shed and sure enough, there were a few dozen battered and worn old one-speed cruisers waiting like horses put out to pasture. We had brought the kids bikes along. We rented a couple of the bikes that looked to need the least adjustment. I adjusted the seats and we donned some helmets that the rental agent had on hand. And off we went.
It was a wonderful day, and the ride was terrific. It had been a long time since we'd done anything together that felt so good. A long time since we had done anything together that was equally enjoyed by everyone. Maria kept telling me how much she liked it, and could we get bikes and start doing this more regularly. DOH! I was surprised and pleased both at once. I had been wanting to get back to riding for a LONG time but had kept using the excuse of the expense of putting my bike back on the road. I also had this dismal memory of trying to ride it many years ago when I was still smoking... Now, several years a non-smoker, and it started sounding possible. But I knew that I would have to postpone using the pro bike. The kids were trail riders and the recreation we'd be doing as a family would be very unsuccessful if I was always whining about wee stones causing tire problems, not to mention other road conditions.
So on the way home from the canal ride, we went to Costco to see what they had for bikes. OK, I can hear the bike snobs out there groaning. Me too, but I have seen nice enough bikes there with enough quality parts on them to keep me satisfied long enough to get back in shape and be ready to get back on my nice bike. Forgive me if I sound a snob myself, but a $400 bike is a throw-away as bikes go (at least for my tastes) so if I could get a couple dozen months out of it before it started getting rickety, I'd be happy. Maria is far less picky but we were able to find a really nice bike for her too. Soon we were headed home with two new mountain bikes. Then we realized there would be some complications. The bikes were fine. I'm actually quite pleased. But there was going to be a transportation problem.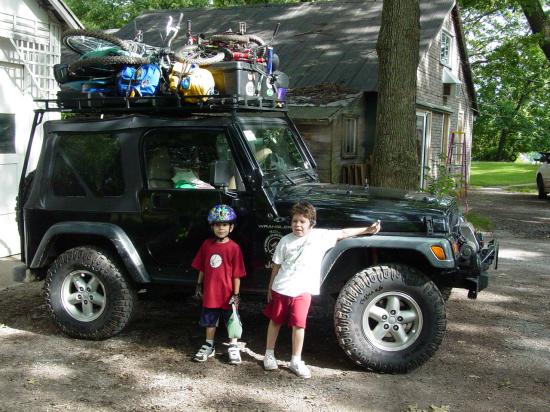 The bikes didn't fit in the back of the car. We started out by using the roof rack on the Jeep. That didn't last very long. The problem was not that the rack wouldn't handle it. It was fine. No, it was me. I found that it was very difficult to heft the bikes up there. It's high, and the bikes are heavy. And really, it bothered me to see a pile of four bikes stacked up there like cord wood. Just not very nice. We would have to see what we could do about getting a bike rack.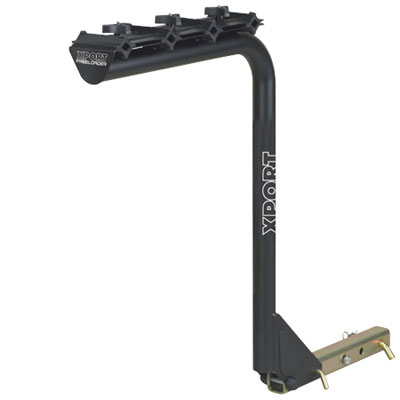 I did my usual hard-core search on the Internet and found several that were great. There was just one complication: They require a receiver hitch. Neither the Jeep nor the Volvo had hitches. I have looked at the bike racks that strap on to the back of vehicles and reject them out of hand because they appear to cause damage to the back of the vehicle, or in the case of the Jeep, add unwelcome weight to the already stressed spare tire mount. There was no avoiding it - we were going to have to get a receiver hitch for both vehicles. This would allow Maria to take the kids riding during the day, and me to take the kids and Maria with the Jeep.
By now you might guess that this did not particularly bother me. I was more than happy to mount a Hidden Hitch onto the Volvo, and did that very quickly so that Maria could take the kids, and we could use the car to go riding when I got home in the evenings.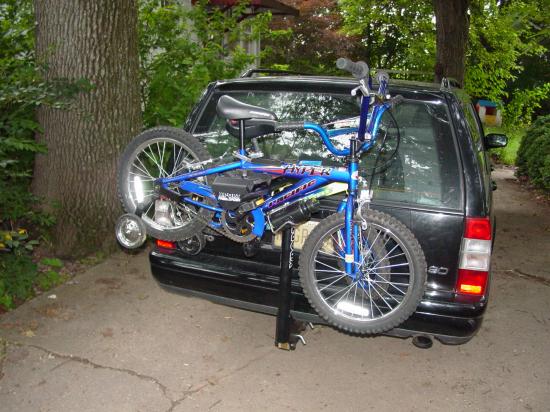 At the same time that I bought the hitch for the car, I bought an adapter to go from a 2" hitch down to 1 1/4" attachment, so that I could mount the bike rack on the Jeep hitch when I got it. We went camping a time or two and brought the bikes, still stacked up on the roof rack of the Jeep. That was getting old and it was just a matter of time before I could not hold off any longer.
I decided it was time to buy a heavy duty rear bumper that had a receiver hitch and a few other features. There was no way I was going to install a bolt-on hitch to the Jeep and sacrifice clearance. And I certainly was not going to install and remove a hitch every time I needed it. I was going to have to find a bumper that had a 2" receiver hitch built in, tucked up out of the way, but still useful.
I checked out all the commercially built ones and found a couple that would work. But I did not find everything I wanted in one place. Just when I was about to compromise, I found a bumper on eBay that had everything I wanted. It was almost too good to be true. If I had built the bumper, this is how I would have done it. So I conducted my usual eBay purchase cycle (ask seller questions including size and weight, negotiate shipping terms, then bid to win).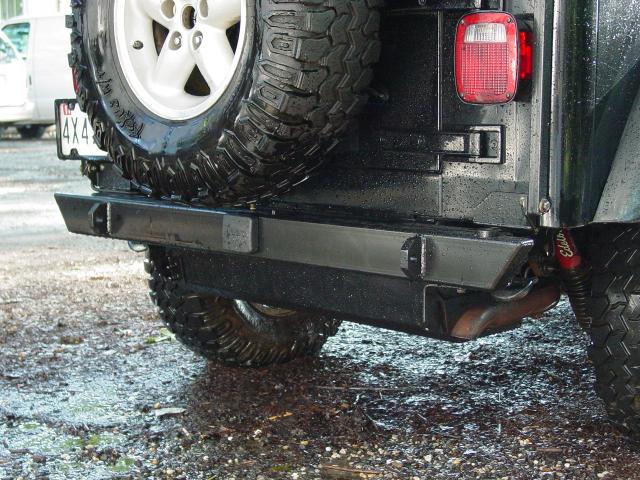 The bumper came, was painted and installed. Then I pulled out the hitch adapter to try out the rack. Complication number one: The hitch adapter was the correct size and type. The problem was that end of the adapter and hit the Jeep crossmember before the hole for the hitch pin lined up! Not really a big problem. I drilled new holes but unfortunately I didn't get them centered well and ended up cutting off the excess end of the adapter with a hack saw. As it turned out, it was for the best as the bike rack ends up positioned just about perfectly with regard to the space between it and the spare tire. I don't think I'd want it sticking out much more than it does.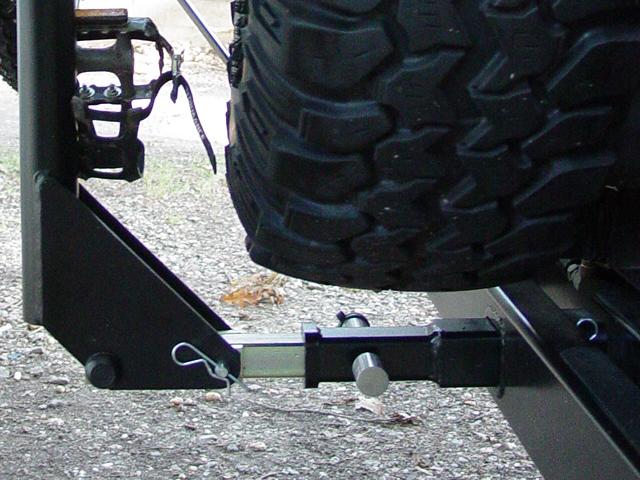 I bought locks for the bike rack to hitch, and bikes to bike rack. I generally don't think we'll have a problem but it does increase our freedom to be able to park the vehicle with bikes on the rack and walk away for a couple minutes without having to worry too much about them being stolen.
Since installing the bumper hitch, I have decided to get the wiring for a trailer (my friend Carl has this nice tent trailer he wants to let me borrow....)
The rack holds four bikes and uses a basic clamping system.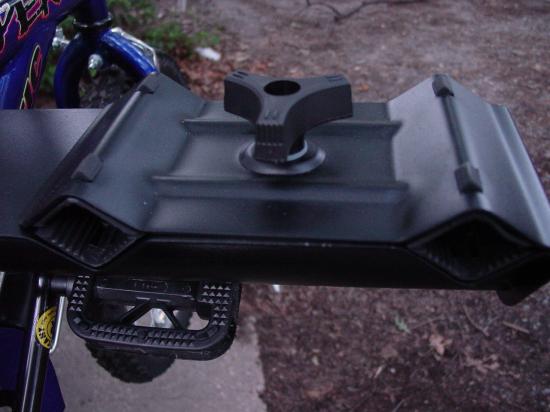 It may be flipped down out of the way of the tailgate, but must be empty to do so, limiting the value of this feature. But it does hold all our bikes very nicely so I am pleased. We got it at Performance Bicycles. It is a generic rack that is sold under their house brand; I have also seen it in other catalogs under a different name.