Cab Items
Here are some shots showing the interior of the Jeep. Some items that are visible are the indoor/outdoor thermometer, air compressor, Mini-Maglites, GPS, CB, blind-spot mirror, and window stickers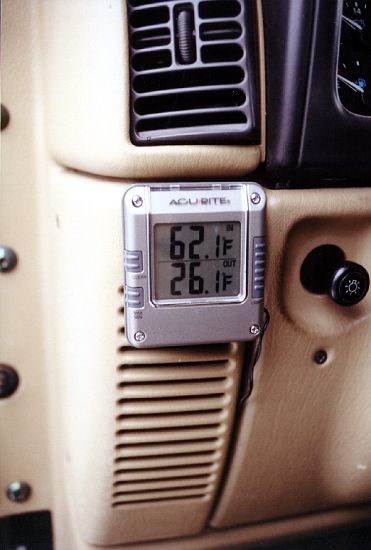 Get the temperature indoors and outdoors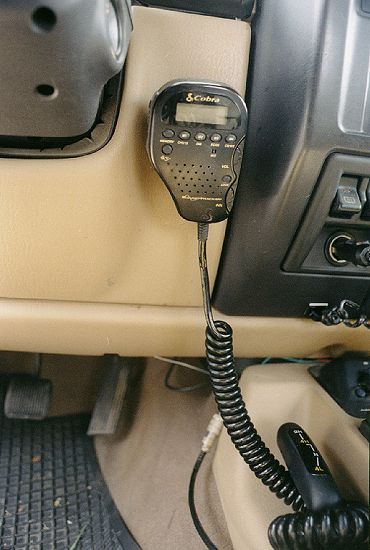 Here is the Cobra WX 75 ST. Note the cord coiled around the 4WD lever to keep it away from my leg, and the lead running to the front of the console where the little box is located.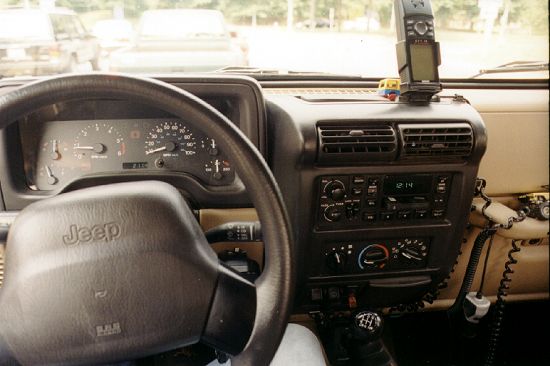 This is a drivers-view of the dash. Everything is to hand. Note the Jeep is running and the gauge readings - all normal except the gas gauge which indicates time to get gas before a trail ride... The GPS is mounted in a bracket that allows removal for concealment. It uses power from the Jeep to save on batteries (and has batteries in case I have to use it remotely).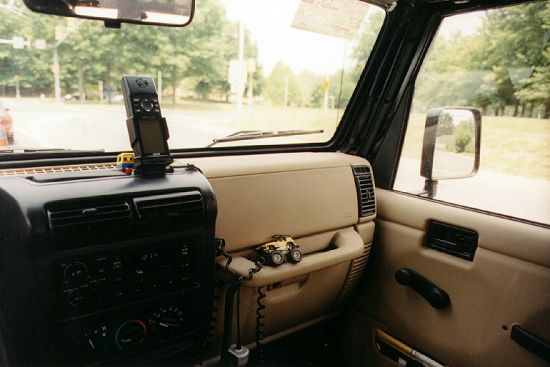 Not much to see here except maybe the cord that is normally plugged into my cell phone.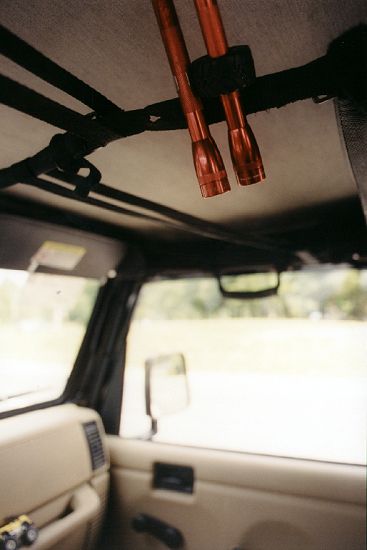 Twin Mini Maglites. Why two? Because the batteries don't last forever, sometimes two lights are better than one, and I got them for free so why not? Note the little rubber spare tire on top of one...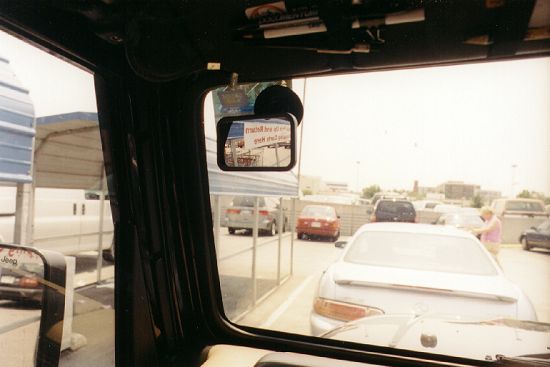 Blind spot mirror. We used this mirror when the kids were little and rode in the back seat alone in a car seat facing to the rear. Now that they are bigger, I have put this mirror where I can see cars in my blind spot on the drivers side. It is great in traffic. I like it mounted here because it leaves the big mirror outside unobstructed, and is just an eye-flick away.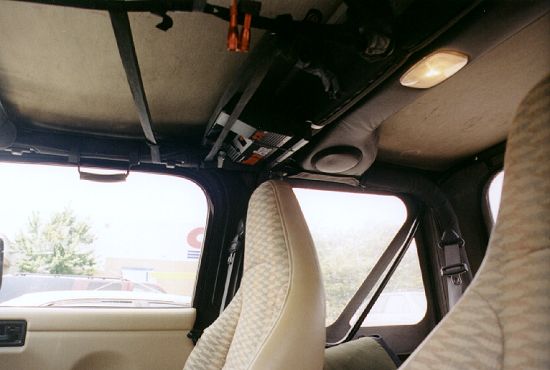 The air compressor is tucked up above the passenger seat. A six-footer still has room to sit in the seat without brushing it. I took apart the case and mounted it to the sport bars so it does not vibrate and won't fall down. It is plugged in to its own power plug under the dash - the wire runs under the sport bar pads and down the corner of the windshield frame.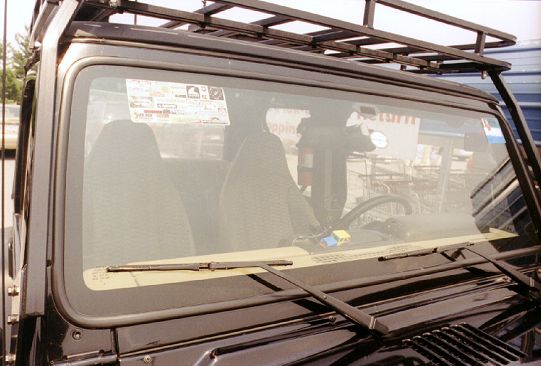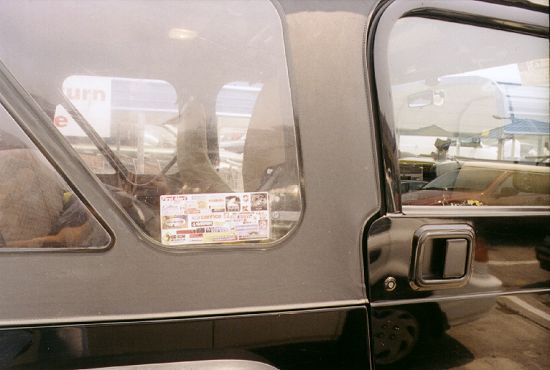 Stickers. Rather than plaster the whole vehicle with "sponsor" stickers, I opted to print them all on a transparent piece of window sticker material, paint the back white to give it some permanence, and stick them to the inside of the windows. I know... TACKY... But it provides a really quick summary of everything that went into the Jeep. As new brand names are added, the sticker gets updated.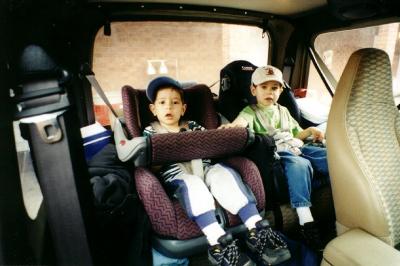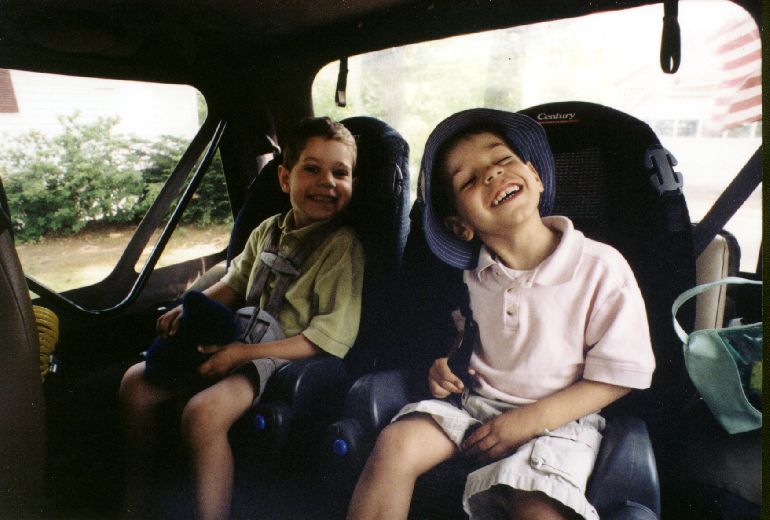 And of course my kids. The roof rack makes it possible for us to have lots of room (well, enough room) for all of us to be comfortable and safe without a lot of junk piled around us. Top photo shows a younger pair of kids. We have updated the car seat for Tom, and he felt much better the day the second photo was taken... They also traded sides when Ted got too big to sit behind me.
Stainless Steel Shovel
Return to Jeep Specs Page | Maintenance Page
Shop for Jeep Toys and Books | See the Toy Jeeps | Off-Road Index
---
Photos, Layout and Design © 2001, 2003 Paul M. Provencher All Rights Reserved.
Contents of this Web Site may not be used without written permission
Visitors since 6/10/01
1506 4/6/06