Lev-O-Gage
How many times have you had someone ask you if you're "Ready to Roll?" Usually that means "let's go" but it makes me think of another condition that I'd like to avoid - Rolling OVER... There may be some circumstances where a little plastic, stick on doo-dad is not going to be much help but for the price and the space it takes, why not have it for those times when it might give you some idea of where you stand?

This one is called the Lev-O-Gage, Item number 201F. It's cheaper than the InclinoMeter (that has a dual display, back lighting and all that), this one requires no power, and reads higher angles. And it looks kind of cool...
Of course no sooner did I get this one than I found the manufacturer web site and discovered they have a Lev-O-Gage Senior! They have a $500 Inclinometer if you happen to need it. And a windspeed checking device. And compasses, thermometers... Will it ever end...?

There has been some discussion about the Lev-O-Gage, comments about it's accuracy and whether or not it is really useful. It is obvious that it is not a true precision device although it should be accurate enough for its intended use.

That one cannot drive and look at it at the same time is true but to me does not diminish its value. When the Jeep is stopped, you can look at it and get an idea what your tilt is. This weekend I found another good use for it - determining if I am level so I can reconnect my sway bar.

You might think that being level is pretty easy to detect. On pavement it is, but if you must reconnect on gravel or grass, it can be a little bit harder. And if there does not seem to be any level ground, how are you going to get level enough to make connecting as easy as possible?

I had the same question in my mind when it was time to connect. Then it occurred to me to find a level looking spot and then adjust the Jeep until the gauge showed level. And sure enough, when the gauge told me the Jeep was level, the sway bar connectors went right on!
Sun Company, Inc. Outdoor Products | Levels and Clinometers | 4x4 Connection (where I got mine)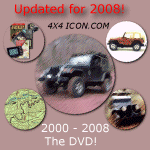 Return to Jeep Build Index
Shop for Jeep Toys and Books | See the Toy Jeeps | Off-Road Index
---
Photos, Layout and Design © 2001-2008 Paul M. Provencher All Rights Reserved.
Contents of this Web Site may not be used without written permission
Visits since 11/29/01
Last Updated 02/09/2008 11:06:18 AM -0500