Bow Saw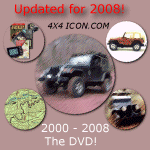 Every once in a while you find yourself in a situation where you need to move some dead wood out of the way. For quite a while, I carried a regular woodworking saw under my back seat. On a couple occasions I did use it. But I noticed that the bow saw that one of my friends carries is more effective and easier to use. So I went looking for something like it.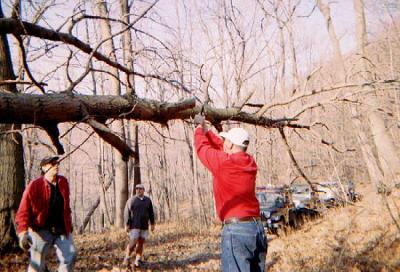 I found a small bow saw that has both wood and hack saw blades. For $10 I got a nice little tool that fits in my rack-mounted tool boxes and comes in handy when needed. I do carry a chain saw when I am expecting large problems but the bow saw has been very useful.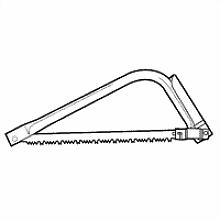 There might be those who wonder how this is consistent with conscientious off-highway behavior. Two points in the motto of the Tread Lightly organization suggest reasons a saw is appropriate.

The "T" in "TREAD" stands for "Travel only where motorized vehicles are permitted. Never blaze your own trail." The "A" stands for "Avoid streams, lakeshores, meadows, muddy roads and trails, steep hillsides, and wildlife and livestock." In order to observe these tenants, it may be necessary to clear fallen timber from a trail in order to avoid creating a new trail "bypass". In some cases, this could affect the surrounding area.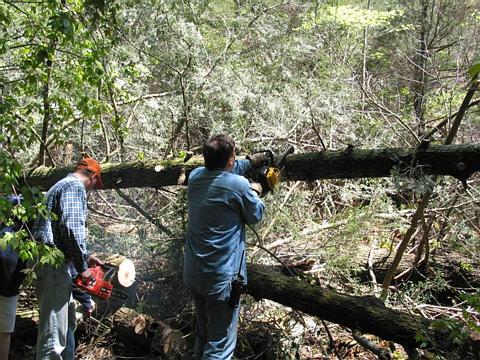 For example, on a recent trip, our group was confronted with large fallen trees blocking the trail. The bypass that was developing involved a trip up a stream. Rather than allow this bypass to become established, we removed the fallen timber and restored the trail to its original state. Although chain saws were used to save time, a bow saw would have worked.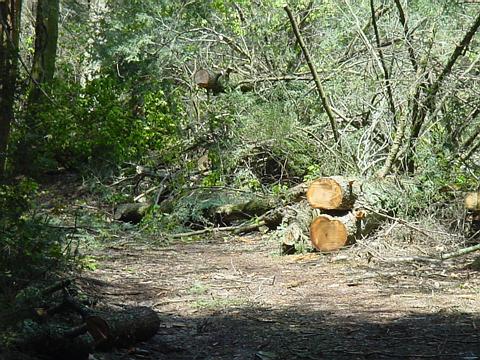 ---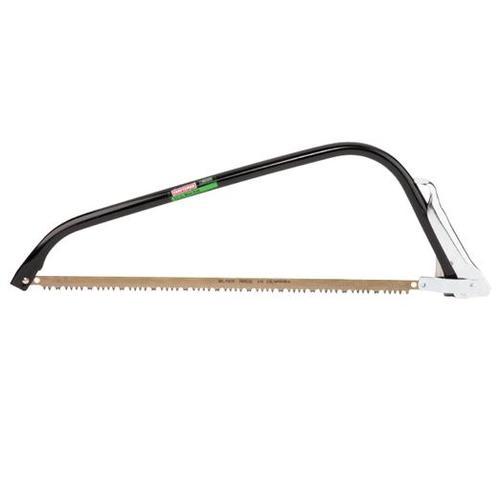 I found that the small saw was handy to have as a backup but a good sized saw really was a lot better choice. So I went to Sears and got a 24" bow saw that works on really large trees. I can't count the times it has meant the difference between continuing on after a few minutes of sawing as opposed to turning back, or sawing forever with the itty bitty saw. Get one. It will be the best $10 you ever spend!
Return to Jeep Specs
Shop for Jeep Toys and Books | See the Toy Jeeps | Off-Road Index
---
Photos (except as noted), Layout and Design © 2002-2008 Paul M. Provencher All Rights Reserved.
Contents of this Web Site may not be used without written permission
Visitors since 5/5/02
Last Updated 02/09/2008 10:35:20 AM -0500