Tow Hooks & Strap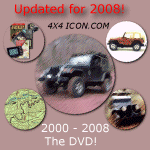 3/22/01
Front Tow Hooks | Rear Tow Hooks | Tow Strap | Rear Tow Hood Update 11/20/06
Front Tow Hooks

This is something that might never have occurred to me. When I had my CJ-2A, there were tons of places to tie a strap with no fear of breaking anything. Of course, for all practical purposes, the bumper was a steel I-beam, there was a plow frame; a tow bar, and the axle tubes and so on were massive. If you wanted to tie off, you could use any of these points without much risk. The low vehicle weight contributed to the low-risk nature of these solutions.

So when I started reading about most clubs requiring tow hooks, I realized that the new vehicles do not have bumpers made for towing, more delicate suspension systems, and a much higher body weight. So off I went to the dealer to buy the tow hooks for the front of the Jeep. I think I still have my wallet here somewhere...

I know that lots of people prefer the generic 10,000 pound hooks because they are cheaper and claim to be stronger. That's fine. My biggest concern was that I wanted something that would bolt on and look as good as it works. I reasoned that if MoPar was giving me two black hooks and replacement bolts that fit perfect on my Jeep, why fool around with something else? Yes, they cost more, and supposedly have a lower capacity, but they look right and the bolts retain the factory look.

MoPar Front Tow Hooks
Part #: 82202186

One thing I noticed, and still haven't figured out, is that the hooks themselves are actually labeled with a capacity of 7000 pounds. But the literature on the Jeep site says they are rated to 5000 pounds. Perhaps the bolts are the weak link? Hard to say.

You may also notice a couple appearance items in the photo above. I put the headlight grills and the number plate cover on to make the vehicle look a little different. I seriously doubt that the headlight grills would really prevent any damage. And the number plate covers have been replaced twice each, front and rear. They are cheap enough to do that, but it's a waste of money since about every other trip off-road, one of them gets shattered...

Installation was easy - once I found a store that sold a T-55 Torx socket. You'd think world ends at T-50. Lowes - NO; Home Depot - NO; KMART, Wal*Mart, Target, Toys 'R Us - NO, NO, NO, and "What, are you nuts?". Then my wife ( I knew she was good for something) suggested Pep Boys. That store is new around here so it never occurred to me...) And BINGO! There were so many Torx sockets, you could never go wanting. Need a T-90? They have it. I stuck with the T-55. It now lives in my off-road box. I kept the old bolts for spares.
Note - Please do not under any circumstances use tow straps with permanently attached hooks!
Front Tow Hooks | Rear Tow Hooks | Tow Strap | Rear Tow Hood Update 11/20/06
Rear Tow Hook

Generic 10,000 lb. Tow Hook

So what about the rear? Well, this is where it gets troublesome. The factory hook package is about $120 for two hooks that bolt to the rear bumper/frame junction! They are probably the most appropriate solution. But $120?

So I went ahead and got myself a $10, 10,000-pound chrome hook and bolted it to the frame where the receiver hitch holes are located. I consider this a temporary solution until I can either salvage the hooks out of the junk yard, or until I can swallow the price from the dealer.

Installing the rear hook was a matter of precisely drilling a second hole and threading the nuts and bolts blindly through another hole in the bottom of the frame. It was not as much fun as I would have liked but it only took about 45 minutes, probably less time without the cussing... A friend of mine attempted the same installation and punctured his gas tank when his drill slipped off the frame, so keep that in mind when you are working on this installation...
Front Tow Hooks | Rear Tow Hooks | Tow Strap | Rear Tow Hood Update 11/20/06
Update 11/20/06
Removing Rear Tow Hooks

Over 5 1/2 years after installing the rear tow hooks, and after using them many times, I finally had a reason to remove them. In July of 2003 I purchased a heavy duty rear bumper. During the installation I contemplated removing the tow hooks because I would not need them anymore. The new bumper has d-shackle tabs that replace the tow hook function. But at that time the tow hooks weren't in the way so I just left them where they were.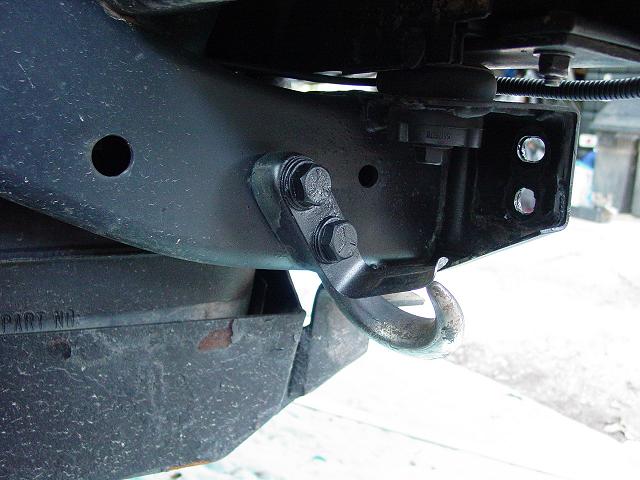 In the time that passed, I spoke to Jared from Comp 4x4 a couple times and he told me that he was going to make a frame tie-in for the rear bumper. So when I got them from him, I finally had to remove the tow hooks. That was fun...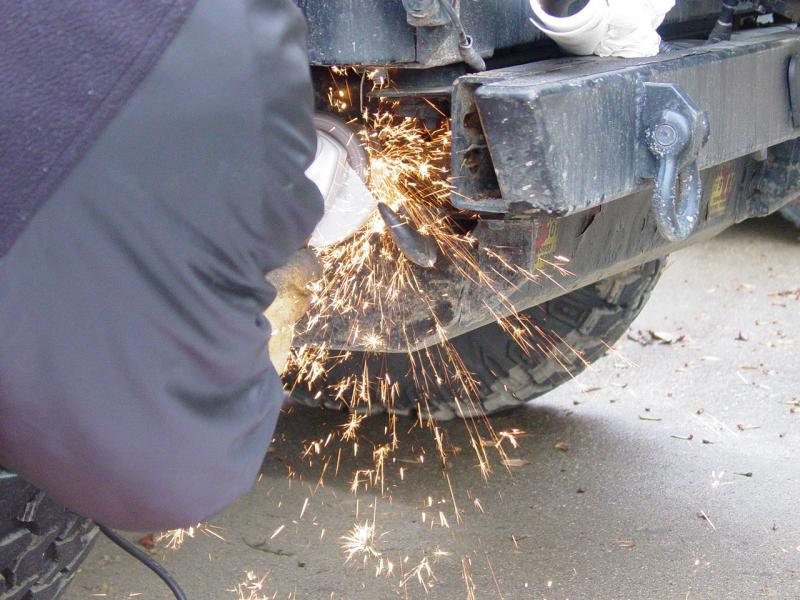 It was a real pain. The hook had pulled the frame a little bit so the bolts were probably bent a little. They had been put on without anti-seize compound by accident on the driver's side so I had to grind off the bolt heads and then grind, hammer, and grind for two hours to get it off. The passenger side I ground the bolt heads off and they came right off. Then I prepped the frame for the new brackets. The rest of the install of the frame brackets can be read here.
Front Tow Hooks | Rear Tow Hooks | Tow Strap | Rear Tow Hood Update 11/20/06
Tow Strap

And what's a good tow hook without a tow strap? I got a 2" x 20' nylon web strap. It lives in one of my tool boxes.

20' Recovery Strap

When it looks like the going is getting rough, I take it out, loop it on the tow hook, put one wrap around the bumper, and secure the rest on the rack overhead. If I get stuck, one end goes to the tow vehicle, the loop comes off the bumper, and the fun begins...
Return to Jeep Specs
Shop for Jeep Toys and Books | See the Toy Jeeps | Off-Road Index
---
Photos, Layout and Design © 2001 Paul M. Provencher All Rights Reserved.
Contents of this Web Site may not be used without written permission
Visitors since 5/21/01