Photo Gear

One piece of gear that I always bring with me is a camera. For quite some time I have always brought one 35mm or another, and also my JVC video camera. I like good cameras and so it's always a balance between risk of camera damage and good pictures. So far I have been lucky - no cameras have been injured in the making of the trip reports! No matter what the type, I recommend bringing a camera with you on the trail, even if it is a throw-away model.

I have been involved in photography since I was a kid. I started with clones of Kodak Instamatics. My Dad has an Argus C-3 that always fascinated me.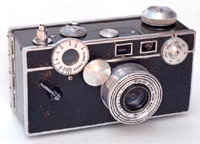 He made super pictures with it and I knew that one day I would get myself a 35mm. The time came when I had a reason: I got myself assigned as the yearbook photographer for my high school class. My friend in the class ahead of me had an Asahi Pentax Spotmatic that his brother bought for him while overseas.
He brainwashed me into thinking it was the only 35mm camera worth owning. Short of hardcore scientific work, or heavy-duty expedition shooting, it remains a standard by which others are compared. Until recently, I have concentrated my entire 35mm system around the Spotmatic family of cameras. I have never been disappointed with the results they produce and the Super-Multi-Coated Takumar lenses made by Asahi Optical Company in Japan are outstanding. I use other cameras with larger film sizes, but for my trips with the Jeep, the small cameras remain the tool of choice.

Be that as it may, most of my trip reports were fairly major productions. I would have to supply myself with film prior to the trip. Then I would be loading the camera in the woods, usually once or twice, depending on the day. Then when we returned from the trip, I would bring the film to be processed. When it came back, I would then have to scan all the images, three at a time, crop, adjust and save them to disk. Then do the web page stuff. It could take two days worth of work just to get the photos done. Meanwhile I saw people whipping out their digital cameras and posting their pictures a few minutes after they got home. In many cases, the image quality produced by the cameras was inferior, but just the ability to get the pictures up was very attractive to me.

I started using our JVC video camera to shoot limited digital images.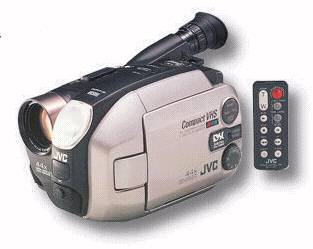 It has the ability to shoot and store up to 20 - 320 x 240 digital images. In some cases, these images were sufficient to document out trips. But like other low-end digital cameras, the picture quality was not up to my standards. I used it, but I wanted something better.

Digital images are made with a JVC GR AXM 700 video camera. This camera is capable of shooting regular video on VHSC tapes and also of storing up to 44 images to built-in flash-memory. In high quality mode, up to 22 images are stored.

These images are shot in high quality (fine) mode. The White Balance is manually set to the white background. This was done to improve the color accuracy. The exposure was set to +2 (in a range of 12 relative settings, from 6 increments underexposed to 6 increments over exposed). The camera is set to Macro-Zoom, Autofocus mode to allow the closest possible shot. The camera is placed on a tripod to eliminate camera shake. The image size is 320 x 240.

The camera does an adequate job of recording images. There is no doubt that something like the Olympus D-320L does a much better job of producing high quality images. This camera does not render reds very well. The image size in high-quality mode is only 320x240, which is pretty small. The built-in light is useless for taking pictures like this. The software that comes with the camera is extremely basic and reads like a badly translated instruction manual. Unlike the Olympus software, it does not load the image to an image editor before storing so images lose something right away because they are stored in a JPEG format, which is very "lossy". One nice feature that the software does provide is the ability to send images back to the camera for use in titling etc. That accounts for the incredibly good sample images that come with the camera....

As a video camera for home use it is pretty nice. I got it as a gift so I cannot be too crabby about it. I would prefer full VHS sized tape and a longer battery life, but it serves it's intended purpose - to record the early life and times of our young son. And the still camera feature is a nice extra if you can't afford both a digital camera and a video camera.

The flexibility of settings is incredible. I do not recommend this camera to anyone who has trouble setting the time on their VCR! But you can manage most settings manually as well as automatically, perform several useful special effects, low light shooting, titling, and even automated editing with a compatible VCR. The camera has inputs and outputs of every possible kind.

Anyway, that is my "professional" opinion of the camera. I hope you like the Photo Album
Features and Specifications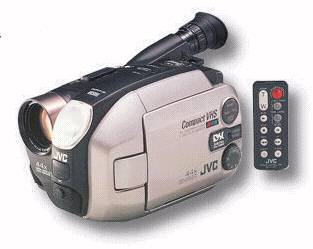 Integrated Digital Still Camera
44X Variable Speed Digital Hyper Zoom
110,000 pixel 3.0" high resolution 270 degree rotating LCD Color monitor
Electronic viewfinder with black/white 0.5" CRT
5 Video Head VHS-C system
Digital Image Stabilizer
1/4" format CCD
22X Optical Zoom
Super LoLux boosts low light sensitivity to less than 1 lux
Full-function Remote Control
Snapshot mode
Program AE with Special effects
Title Generator features 8 preset messages in English, Spanish, French and Portuguese
Wide Mode
Tele-Macro
Manual focus and Exposure modes
Animation and Time Lapse
Quick review and retake function
Black fader
Digital Wipes and Fades
Compact Battery Pack - BN-V11U
Multi-voltage AC Power Adapter/battery charger with built-in battery refresher
PC Connection Cables for PC/AT compatible computers & Macintosh
CDROM Software:Picture Navigator & PhotoSuite
Shoulder Strap, Compact VHS cassette playpak
F1.6 Wide-Angle lens
Built in Auto Light
AV output (monoral audio)
1 year parts, 90 days labor warranty
Shipping Weight 5.25 lbs
Power 6V DC