Emergency and Personal Items
First Aid | Additional Items | Blankets | Small Spare Parts | Sun Glasses | CPR and First Aid Training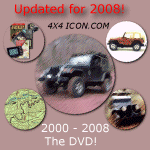 Unfortunately, personal injury can come as a part of any activity that involves active outdoor sports and automobiles. With some caution, restraint, well maintained equipment, and plain luck, most outings can be enjoyed injury free. But when the unexpected happens, it is important to have something to deal with a variety of minor and major injuries. Sometimes, these provisions prevent disaster.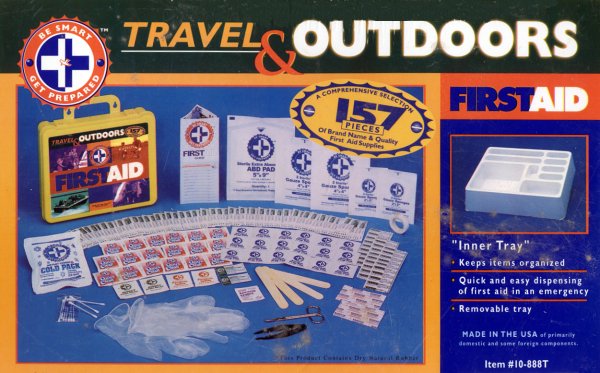 The First Aid Kit shown has the following items:
2 Knuckle Bandages
30 Adhesive Bandages 3/8" x 1 3/4"
50 Adhesive Bandages 3" x 3/4"
4 Sterile Sponge Dressings 2" x 2" (2 per pack)
4 Sterile Sponge Dressings 4" x 4" (2 per pack)
1 Heavy Trauma Pad 5" x 9"
18 Alcohol Prep Pads
18 Antiseptic Towelettes
2 Povidone Iodine Prep Pads
2 Insect Sting Relief Pads
1 Adhesive Roll 1/2" x 2.5 yds.
1 Ammonia Inhalant Pad
4 Finger Splints
2 Antibacterial Ointments
1 First Aid Instruction Guide
1 Instant Chemical Cold Pack
2 Protective Gloves
1 Tweezer
10 Cotton Tip Applicators
1 Scissors
2 Polybags


Carrying Case
- Water and Dust Gasket Seal
- Organizer Tray
- Sturdy Polypropylene Carrying Case
First Aid | Additional Items | Blankets | Small Spare Parts | Sun Glasses | CPR and First Aid Training
Additional Items
This picture shows some of the things that I carry in the trunk of the Jeep. In addition to the First Aid kit that I described above, I have also added some other things that I thought would be useful:

Insect Repellent
Antiseptic Wipes
Topical Anesthetic
Whistle
Thermal Carry Case
Aspirin
Motrine
Tylenol
Alka Seltzer
Tylenol Cold
Sun Screen All Day, Waterproof/Sweatproof SPF30 with UVa/UVb sunblock
Chapstick
Skin Cream
Blankets
Water Purification Kit
Waterproof Safety Matches
Fire Starters

Here is everything stowed. The bottom of the First Aid kit can just be seen below the opening in the rear window.

I left the items in their original packages since that provides an extra seal and in some cases the package contains additional instructions that are not printed on the containers.

The carry case for the First Aid kit was purchased with the idea of having extra space so that more items could be added as they are located. The case is insulated to help keep the contents cool and dry. Red seemed an appropriate color...

Things I added:

Extra Absorbent Gauze Pads 4" x 4 " (10)
Elastic Bandage 4" x 1.8 yds (1)
Waterproof Tape 1/2" x 10 yds
Rolled Gauze 3" x 90"
Emergency Blanket 52" x 84"

Blister Medic Kit by Adventure Medical Kits

Strip Adhesive Bandages (2)
Knuckle Adhesive Bandages (2)
Extra Large Tough-Strips (10)
Antiseptic Towelettes (3)
3 x 4 Moleskin (2)
1.5 x 2 Spenco 2nd Skin
3 x 4 Molefoam
3 x 4 Non-woven Adhesive Knit
Scissors
Double Antibiotic Ointment (2)
Instructions

I need to get:

Activated Charcoal
Ipecac



First Aid | Additional Items | Blankets | Small Spare Parts | Sun Glasses | CPR and First Aid Training
Blankets

The blankets are rolled and tied with Velcro straps to the top struts, stored to each side of the rear seat. A 3/4 length French Army surplus overcoat is also peeking out from underneath the blanket. I have since stowed the blankets inside nylon stuff sacks that double as knapsacks.
First Aid | Additional Items | Blankets | Small Spare Parts | Sun Glasses | CPR and First Aid Training
Small Spare Parts, Flash Light, Binoculars

Not all emergencies involve human injury. Something as simple as a blown fuse can be a disaster if you don't have a spare. Take the time to look in your fuse boxes and see what fuses control critical systems on your vehicle. These days, modern vehicles are controlled by computers and other electronic devices. The failure of a single fuse can strand you. I bought a little plastic compartment case to sort the fuses, fuse tester, and fuse removal tool, and a few odd nuts, screws, etc., like my lug nut lock.

And finding and troubleshooting can be tough if you don't have a good work light. While it is a good idea to have a large flash light, I like to carry a small one as well. Often it is easier to handle and store.

Shown here for no particular reason other than they are stored in the console, is a pair of cheap binoculars that I keep in the Jeep so that I can watch the weather, spot the trail, and just in case...?

I also carry tools and some supplies, like Threadlocker, and Radiator Stop Leak. These items are handy to keep around too.
First Aid | Additional Items | Blankets | Small Spare Parts | Sun Glasses | CPR and First Aid Training
Sun Glasses

I never really thought that sun glasses were a survival item. But in fact they are very important. Be sure you have a good pair with you at all times. It goes beyond looking good...
First Aid | Additional Items | Blankets | Small Spare Parts | Sun Glasses | CPR and First Aid Training
Training

While it is important to have a well equipped First Aid kit, it is equally important to know what to do with the contents. Emergencies require clear thought, proper ordering of priorities, the ability to recognize symptoms of serious injury.

Wilderness First Aid issues have additional implications that can be explored in training tailored to this special area. Check with the Wilderness Safety Council for courses leading to two-year certification.

This page cannot possibly cover the spectrum of knowledge that an Emergency Medical Technician must know to be effective but remember these important points.

In most situations it is important to get the bleeding, breathing and/or broken bones identified and under control before evaluating whether an injured person can be safely moved. In severe injuries it may not be safe to move a victim, so be sure to have blankets on hand to keep them warm and dry. Don't be lulled into complacency by shock. It can be just as deadly as the major injuries. Do not let even mildly injured victims start moving about until you can be certain that you know the extent of their injuries and whether or not they are going into, or in shock.

If you anticipate that you will be more than a couple hours away from help, it is probably a good idea to take a first aid course and make sure you carry a comprehensive First Aid Kit. If you are responsible for a group, you'd better be aware of any special medical conditions in your party. If you are not capable of dealing with situations that could arise, be sure you bring someone with you who can.

Sometimes, the injury is not significant but causes enough discomfort that it can ruin a nice day out. Minor injuries such as insect bites, scrapes, small cuts, scratches, headaches, bruises, slivers, and the like are much easier to deal with and overcome if supplies designed to address them are in your kit.

Update 5/20/02
CPR and First Aid Training

I thought that my previous CPR and First Aid training was sufficient to provide me with the knowledge and skills needed to be of assistance if needed. After taking a complete course to update my skills, I have learned that changes have been made to the methods and recommendations that I learned. It was worthwhile to take the course not only to get these updates, but to pick up additional skills and information that could prove useful in the event of an emergency.

The training, by American Safety and Health Institute, provided me an opportunity to have my first aid kit evaluated to see if it was adequate for my needs. It turns out that it is, but only for the occupants of my vehicle. It would not be sufficient to service the needs of a group. For this reason it is quite important that groups make certain all participants carry a first aid kit that is at LEAST as complete as the one shown here. The instructor also recommended that I supplement the kit with a large quantity of the Sterile Sponge Dressings (4" x 4") as these can be used up rather quickly if needed.

Do not expect a CPR and First Aid course to prepare you for the special considerations of traveling in the back country. Our trainer taught us to

1. Activate 911 (Call EMS)

2. Check for Signs of Breathing and Circulation

3. Begin CPR and Rescue Breathing (if needed)

The problem is with step number 1. In many circumstances, calling 911 may not be possible, even with a well charged cell phone - there may not be a signal in the wilderness. CB Radios have an emergency channel (9) but monitoring is not consistent and even if it was, CB's do not always reach far enough to be of use for this purpose. At least where I travel, not many people use ham (I have only seen one in two years of wheeling). So without being able to contact 911, there are several issues that must be confronted. Can the victim be safely moved? How long will it take to get the victim to medical care? Can someone go for help? How long will it take to get help? Where is "Help"? If you stop and think about this for a moment, and think about how long it can take to get back to pavement, never mind to a hospital, you can see that these considerations should be thought through BEFORE it becomes necessary.

Some very general suggestions that I have include the following:

Make sure someone knows exactly where you're going and when you are expected to return. Be sure to check in with them so they know you are OK, and leave instructions for them to start trying to locate you if you do not return as planned. Make sure you update them if your plans change.

Be sure you know where the nearest Emergency Medical Care can be acquired. Make a test run if possible to determine travel time and work out any directions etc. Carry the phone number in your map case.

Make sure everyone in your party has completed a medical profile (for example this one used by the Off Camber Crawlers) and has it in their vehicle at all times. Be aware of any special medical conditions that trip members may have (Diabetes, heart conditions, epilepsy, etc.) so that these can be taken into consideration when preparing for trips.

Do not attempt to perform medical assistance that you are not trained for and comfortable with.

Try to make sure that at least one (preferably more) person(s) have up-to-date CPR and First Aid training, and that each vehicle has an adequate first aid kit.
First Aid | Additional Items | Blankets | Small Spare Parts | Sun Glasses | CPR and First Aid Training
Return to Jeep Specs Page
Shop for Jeep Toys and Books | See the Toy Jeeps | Off-Road Index
---
Photos, Layout and Design © 2001-2008 Paul M. Provencher All Rights Reserved.
Contents of this Web Site may not be used without written permission
Visitors since 5/21/01
Last Updated 02/09/2008 10:28:48 AM -0500