Dash Indoor/Outdoor Thermometer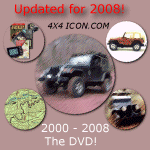 In the category of dumb, stupid, accessories, comes the Indoor/Outdoor Thermometer. Well, in a sense it's not dumb. It does tell the temperature outside, so if it is approaching the freezing mark and you, meanwhile are sitting fat, dumb and happy inside (with the hardtop on) and need to know if there is a risk of black ice, this could be useful. Not that it would change anything but hey, it was cheap...

Installation was stupid easy. I ran the outdoor thermometer sensor inside the same channel that carries the rest of the wires to the back of the jeep, and sticky taped it to the underside of the front fender in a place where it would not pick up engine heat.

I concealed the wires coming out of the display unit inside the speaker grill on the dash. I wedged the display between the gap in the dash parts near the lights. It's not very visible but that's life.

1/18/04 After one year, almost to the day, the replacement unit was discovered to have a severed external wire lead. Since the unit has proven useful, I repaired the lead and put it inside a wire harness tube that should protect it from getting caught in anything that might damage it. I also replaced the battery with a rechargeable one.

1/12/03 After a couple years of service, the first unit became unreliable due to problems with the external sensor lead. But for $15 it was not a great loss - two years service for $15? What's not to like?

I found a replacement that brought the added capability of recording the high and low temperature of the day in addition to displaying the current indoor and outdoor temperatures.

I relocated the external sensor to the front bumper because the various locations I tried first gave false readings due to engine heat. (White stuff is snow)

I ran the sensor wire (small one leading off the left) along the frame and up through the engine compartment out of harms way to the fire wall and through the plug near the gas pedal.

(View from inside Jeep)

Owing to the size of the new unit, I mounted it in a new location on the dash

The display is a little inconvenient to see from the driver's seat but not impossible. It has a little light for night too!
Return to Broadway, VA 7/4/2001 Index | Jeep Build Sheet | Jeep Chronology of Modifications
Shop for Jeep Toys and Books | See the Toy Jeeps | Off-Road Index
---
Visits since 1/12/03
Photos, Layout and Design © 2001, 2003, 2004 Paul M. Provencher All Rights Reserved.
Contents of this Web Site may not be used without written permission