InterCo TrXuS M/T Steel Belted Radial
7/19/02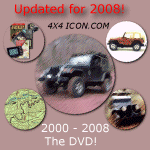 Update 1/27/07 (Tire Rotation)
Tires Part II

After about 40,000 miles on my Pirelli Scorpions, I had enough incidents off-pavement that I decided it really was time for me to get a tire that had a little more height and a lot more bite. I still wanted to have good behavior on the pavement but I was willing to trade some tire noise and even some mileage for off-road grip. Lots of people had good things to say about the TrXuS tires from InterCo. When I finally saw them, I was sold. With only half the tread-depth left on my Pirellis, I knew it wasn't going to be pretty if I got caught in wet weather on the trail, so I decided it was time to retire them. The Pirellis served me well, and are a great all-around tire. I would definitely buy them again if I was going to spend more time on pavement and less time on the trail.

I shopped all the brands that offered 31 x 10.50 x 15 light truck, aggressive terrain tires. I still wanted to have a good compromise between highway handling and off-road capability. After a process of elimination, I settled on the InterCo TrXuS M/T Steel Belted Radial 31 x 10.50 x 15.

Prod. Code
B / RWL
Size
Ply Rating
Skid Depth
Tread Width
O.D.
C.S.
Rim
Max.
Infla.
Max. Load

RXM-05R/052R

31x10.50R-15LT

6

19/32

8.0

31.0

10.8

8.5x15

50

2270

They are about 31 inches high. This is over an inch taller than the Pirellis that I had. This should give more ground clearance but I have not yet measured the difference. The wheel and tire to the right are stuffed into the wheel-well with the front swar bar disconnected. The tire fits fine with just a shade of rubbing on the control arms when turned all the way to either direction. (Old Man EMU 2.5" lift installed)

I wanted to adjust the steering stops but they are tack-welded...? Upon closer examination it turns out that the nut that sets the depth of the steering stop bolt is tacked on to the bolt but the bolt still unscrews from the steering assembly. I added three washers to it and re-installed it using some blue thread locker just for peace of mind. They no longer rub the lower control arms but I might have put too many washers - will watch it for a while and see if it rubs when disconnected.





The speedometer is reading a little lower by about 2 m.p.h. I couldn't wait to compare tire performance off pavement so I went to my little proving ground near my house and tried a hole that I got stuck in with my GS/A's, and again about a week or so ago with my Pirellis. The hole had water in it this time instead of just mud like last week. I crawled in and out on my way up the trail, and again on the way out. No problems and done without any running start. Last week I had to blast through it with my 1/2 tread-depth Pirellis.

I think it's safe to say these new tires are giving me better off-road performance right from the get-go. I'm still happy with the performance of the Jeep though fifth gear feels a little taller than it used to. I don't think there is any need to do anything with gears etc.

On the highway, they are a little less firm than the Pirellis. Handling is a little less precise but that is to be expected - these are trail tires that work well on the road, unlike the Pirellis that were road tires that work well on the trail. It takes a little longer to stop but there is no skidding or squirrelly behavior. They're just a heavy tire and it takes longer to spin them down. I noticed some noise when starting and stopping but nothing unbearable. At regular highway speeds with the soft-top on, the air conditioning running, and the roof rack contributing, the noise of the tires is barely noticeable compared to the Pirellis which were marginally quieter when new and about as noisy when I removed them to install these tires.

These are very aggressive looking. There is no mistaking what these tires are about. They did not just get rotated off of someone's Caddy. These tires are made to stomp terrain, and you can tell just by looking at them. The lugs are huge and the gaps between them like canyons. My first outing with them was on muddy terrain and they self-cleaned in true Swamper tradition. The sidewalls are black letters on both sides but one side has deeper lettering than the other - I put that side out. They balanced up well, with only one tire taking a lot of weight and having a very slight run-out. It is starting out on the spare and will rotate in to a rear axle position. Maybe after some wear it will get better? They should last about 30,000 miles.

The funny thing is that I asked my wife what she thought of the ride and she said that she liked it better because it seemed softer to her. HAHAHA! There you go! Tell her that it will make the Jeep ride better...



Tomken Spare Tire Relocator TMH-0102-ST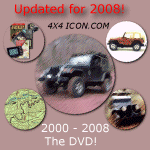 Along the way, I figured I would be getting a larger tire than the ones I have and knew that I would have to address the spare tire storage issue. While I now think it inevitable that I will end up with a beefy front and rear bumper, I am still not sure I want a huge tire rack back there. For now, I managed to snag a used adapter on eBay that partially solves the problem of larger tires on the stock spare mount. With it installed, the 31" tires are too narrow to touch the snubbers on the rear door. There is a 2.5" gap there. So I cut some spacers out and bolted them between the snubbers and the rear door using new phillips-head 6mm-1 x 80mm stainless steel bolts that I ordered from boltdepot.com. This provides the needed support for the tire. (Note: It was a pain to locate the Torx Head (T30), 6mm-1 80mm long bolts that need to reattach the snubbers to the rear door. I sure wish the U.S.A. would quit dragging feet with the metric thing... I went to Home Depot, Lowes, Track Auto, Pep Boys etc. Some of them had 6mm bolts but the longest I could find was 50mm (about 2 inches - I need almost 3 inches) If you were installing 12.5 inch-wide tires this would not be an issue...)

I bought some stainless steel nylock bolts to attach the spare tire adapter to the stock tire carrier (also from boltdepot.com), and used some stainless steel split washers for good measure. These bolted on without any trouble.

These photos show the gap between the snubber and the tire before and after it was fixed. I got 5 6mm-1 x 80mm, Metric machine screws, Stainless steel 18-8, Phillips pan head, from BoltDepot.com that allowed me to reattach the snubbers with 2.5 inch spacer blocks behind them. I really think the tire needs that support to keep from vibrating itself off the rear door.

These shots (before and after snubber extensions) show that the rear air chuck was going to be the limiting factor with mounting the spare without using the Tomken adapter. Even though many people argue that I should have mounted the chuck to one side or the other away from the spare, I like it here as it is protected and it is not in the way of using the bumper as a step - something I do quite often.

Third Brake Light

It is also clear from this shot that the 3rd brake light will need to be raised so Honda drivers can see it... I corrected this by going to Home Depot and buying four 5/16-18 x 3" stainless steel carriage bolts, 16 stainless steel washers to fit the bolt, 5/16" lock washers (four used), and four 5/16" stainless steel cap nuts.

The only reason I used the carriage bolts is because I needed thread all the way up the bolt and there were no full threaded hex-head bolts in stock. I removed the stock bolts. I threaded one nut onto each carriage bolt and tightened it against the head. Then I threaded the assembled carriage bolt into the hole, from the bottom, with a washer between the nut/bolt and the mount. Next, I threaded a nut onto the bolt just down several threads.

I temporarily placed two washers and a lock washer on the bolt above the nut, and adjusted the height of the nut until the cap nut threaded all the way on without going any further. In the image right, you can see the adjusted height of the third brake light and the spacers put in for the spare to compensate for the adapter. Note that the longer bolts are not easily visible even from the side.

The cap nuts do not have a hole in them so they cover the bolt end for a finished appearance. Here you can see through the gap in the spare tire. The cap nut is near the center of the shot. Below and to the right you can see most of the stainless-steel nylock nut used to hold the spare tire adapter bracket to the factory mount.

Before Cleaning and Black bolt covers

After Cleaning and Black Bolt Covers

In order to have it go on just far enough, this step was needed. Then I removed one washer and the lock nut, leaving one washer and being careful not to disturb the adjusted nut on each bolt.

I removed the third brake light wire from the clips in the housing to give me some slack.

Then I placed the third brake light assembly onto the four bolts, placed a washer, lock nut, and finally cap nut onto each bolt. (shown without black plastic bolt covers, cut to size after test fitting)

Using a spanner to hold the nut from below, I tightened the cap nuts. I cut some black tubing to length to cover the exposed threads of the bolt. Honda drivers can once again see my third brake light, now raised about 1.5 inches above my spare.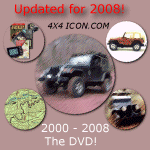 Update: 10/16/03

15 Months and over 30,000 miles after installing the TrXuS tires, I felt it was time to get new tires. I passed on the ones I removed with about 3 or 4/32nds of tread left (see above). I took advantage of a deal I could not refuse and bought another set just like the ones I had before. I have driven these tires under just about every on and off-road condition imaginable and was greatly impressed. These tires are sticky, grippy, and conform to terrain when aired down. They are tough and stand up to hazards. I have nothing but good things to say about these tires.

I rotated them about 8 times during the life of the tire. I did this whenever I started to develop an out-of-balance condition, usually as a result of losing a wheel weight while wheeling. In each case, the tires balanced perfectly and continued to wear evenly in the new position. When removed, all tires were worn about the same amount, and none had any chunking, cuts, or other damage.

Consider this an endorsement. If you want to have a tire that serves both on and off pavement with a daily driver, you can't go wrong with this tire. Read my trail reports starting when I installed these tires in July of 2002 and you will often see comments about the tires and how they greatly improved my vehicle handling and performance. OK, Interco, send me some tires for free! No, seriously, I am saying this without receiving anything from the manufacturer.
Update: 10/5/04

One year almost to the day. I didn't rotate the tires and the front ones wore out in the middle with every other lug a bit more worn than its neighbor. The rear tires are about 1/2 used so I put my unused spare on and got Carl's unused spare and another nearly new tire. I put the used one on the spare and the new spares mounted up front.

Update 11/28/04

I ordered two more tires from 4WD Parts and went over to Merchants to have them installed. They put them on and balanced them for me. Miles at the time of installation was about 142K.

These tires ROCK!
Update: 8/10/05

I neglected to rotate the tires as faithfully as before and was penalized with a fair amount less mileage.

I ordered the tires from National Tire Warehouse in Wheeling, WV, drove up there and picked them and up then across town to a Merchant's tire where I had them mounted and balanced. Good tires! I kept the old spare and just bought four tires.
Update: 9/10/06

This time I managed to keep the tires rotated and got the usual mileage out of them - about 30K Miles. I swapped them off at 187500 miles. Somewhere along the way I got a puncture and plugged it with a repair kit. That tire is my spare (brilliant) and four new tires from NTW in Wheeling, WV are now mounted courtesy of National Tire and Battery (a division of Merchant's). Well not courtesy, they took my money...
Update: 9/22/06

I was having too much fun today and put a piece of a fallen tree through my right-front tire.

Great mileage on that one - about 1500 miles before ruining it completely... But it was my bad. That spare that I had with the plug? I ended up using it for five days without any problems. The replacement tire came from Wheeling, WV in that time and I mounted it on the vehicle. Time for a retry!
Update: 5/22/08

I had not driven the Jeep as much as I did on the last set of tires. Between driving the Cherokee and Commander, and then the Crossfire, not to mention a fair amount of business travel keeping me close to home on the weekend, the tires lasted a lot longer. Indeed, they still had half the tread left. I had problems in January with the charging system and that kept it down until the end of May. I decided to take the Jeep to have the tires rotated and to have three of the beads cleaned because of slow leaks. I left the vehicle to be serviced and went to have lunch. When I returned the vehicle was sitting unfinished and the technician approached me to describe a problem. The tires, it seemed, were leaking because there were separation cracks where the wire bead that is embedded in the center of the tire had separated from the rubber and left a rather large gap that penetrated one half of the tire thickness! There was no way the tires could be used safely. So I left the vehicle at the tire shop and ordered a new set of tires.

The following week, when the tires had arrived and been installed, the tire shop called back and told me the Jeep was ready. The timing could not be better - it was coming up on Memorial Day weekend, and I had tentative plans to go to George Washington National Forest with some old friends. I can't imagine what a disaster would have awaited me if I had not found the problem with the tires and had gone wheeling. So I was pleased with the outcome, and very grateful for the stroke of good luck and deciding to have the tires serviced.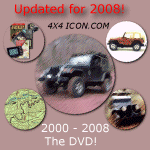 Return to Jeep Specs Page
Shop for Jeep Toys and Books | See the Toy Jeeps | Off-Road Index
---
Photos, Layout and Design © 2002, 2003, 2006-2008 Paul M. Provencher All Rights Reserved.
Contents of this Web Site may not be used without written permission
Visitors since 7/19/01
Last Updated 05/27/2008 01:43:24 AM -0400
17755 4/6/06