Prologue
On June 1, I received the following message from my friend and co-worker Mike:

Hi everyone,

Wanted to drop you all a note and see if you'd be interested in a little group geocaching/canoe excursion.

As most of you know, I'm the primary owner (instigator) of the WV DeLorme Challenge cache. When we were putting that cache together, we noticed that one page in particular had only one cache - "Slopping at the Trough". I'm not sure how many of you have been in that neck of the woods, but if you have you probably want to go back. If you haven't then you really need to get out there! Check it out at this link then finish reading this email - so far there are only 3 logs for a find of this cache:

http://www.geocaching.com/seek/cache_details.aspx?guid=415d6c93-6827-4a08-b6eb-eec6526d87c6

Here's the idea that I came up with:

We will leave early

We will travel down and back as a group

Everyone will be responsible for getting their own equipment (canoes, PFDs, paddles, etc. Bring it or find an outfitter.) AND knowing how to use it PROPERLY.

We will do the float trip as a group

Bring your own lunch

Find the cache

Do the happy dance

Paddle out

The rest of the details are still a bit fuzzy ...

If interested:

all correspondence for this trip will be done by replying to this email so everyone gets a copy, I can add new folks easily, and no one gets dropped off the list.

First, I'd like to know who would be interested in a minimum Saturday day trip, maximum Sat-Sun trip with the canoe trip happening on Saturday.

Next, let me know your 1st and 2nd preferences for a weekend trip between July 29 and Aug. 27. Right now I'm thinking the majority (and my wife) will rule. 8-)

Share your thoughts, questions and concerns by replying back to this email for group input, I'll moderate as needed.

I thought this would be a fun group of folks to take the trip and have a good, safe day on the river as well. I see this as a group of folks who enjoy the outdoors getting together to share something fun. I'd like to keep the size of the group reasonable (12-16 max, not 30-40) to keep the logistics manageable.

Look forward to hearing from you all.

Best,

Mike

GC:ScoutingWV

This sounded like a great idea so I indicated my interest right away. Shortly after that, Mike heard from the owner of the Geocache with the following info:

Hi Mike,
'Almost missed your email because it got buried in my inbox. I'll attempt to answer your questions.

First, there are two outfitters in the immediate area that rent canoes: Eagle's Nest Outfitters on US220/Rt. 28 just downstream from Petersburg and the Trough General Store located at Harmison's Landing along the Trough Rd. about 10 miles upstream of Romney. Although I haven't rented canoes myself, I've used the Trough Store many times for shuttle service. Great folks.

The stretch of river I like to float begins at the public access immediately below the bridge at Old Fields on US220/Rt. 28 and ends at Harmison's Landing (called Sector on USGS topo). This is about 12-14 miles and is an easy one-day float, but there're many camping spots along the way if you want to camp. Another possibility is to float further downstream about 4 more miles to Camp Wappacoma along the Trough Road. This is a private campground with pretty nice facilities. Boy, a hot shower after spending a day on the river is like paradise to me!

The river through these areas is pretty mild, provided the water is at normal levels. The roughest shoal is immediately above the railroad trestle at the trough's entrance. If you hang to the right and keep off the ledge, you'll be fine. I speak from experience - on one of my earlier treks down the river some 15+ yrs. ago, a friend and I decided to go down the middle of the shoal over the ledge. Water was running about 4 ft. high. Needless to say, my trusty Grumman (now retired) submerged in the aeriated water. My canoe received a gash along the waterline by a sharp rock much like the Titanic's wound. However, thanks to a ready supply of aluminum and duct tape, we were on our way after about six beers. It doesn't get any better than that! I do recall that it was Old Milwaukee beer, at that. Also, that experience caused me to invest in dry bags. I've never had to sleep in a wet sleeping bag since. I guess we all learn something from our stupid mistakes.

If you have any more questions, just let me know. I hope you try out the South Branch and especially make a go for my cache. You won't be disappointed.

-Jim Pierce aka JaboIam

After reading Jim's very helpful note, I spent some time on the maps, to locate the important places he mentioned.

I marked them with waypoints, and did some routing plans to get down to the campground and to the outfitter locations. I also marked the put-in spot Jim mentioned.

I had a little trouble finding the campground at first because Jim used another spelling, but eventually I figured it out and soon had a complete layout documented.

I went over it with Mike and we decided to do a pre-run to check out the outfitters and campground, and get a sense for the logistics of moving the canoes in and out of the river. Not to mention we wanted to see for ourselves how the river looked, and perhaps even hit a few Geocaches while we were at it...
Muster
The night before we left I reconfigured the Jeep for fair weather and our light travel gear. I also fitted the half-doors and uppers anticipating some time during the day without them installed. I also attached the gas cans so we could concentrate more on the location than finding a tank of gas.

While the layout of the cab was left as usual, I seldom show it, so here is a shot of the way I set up the GPSr's and other stuff. For those who need to know why there are three GPSr's, read this.

Mike arrived at the planned time (0700) and we hit the road.
Trail
I had originally planned to drive out Route 68 to Cumberland and then head south. But after we'd been on the road a little bit we came to the exit that does down by Deep Creek Lake and agreed it would be a nicer ride to go that way instead. So the Jeep left asphalt and we exited the highway at Friendsville.

We drove along, with a stop to remove the door uppers and stow them in the back seat. We reached Deep Creek Lake. I noticed last time how much it had changed since the time in 1993 Maria and I went there. Come to think of it, we've changed a lot too!

I was pointing out to Mike where Maria and I had taken this photo (above) and he indicated that the McHenry McMicro was there! So naturally we stopped. He's already logged it but I took the opportunity to get it too. Note Mike sticking his head out the window so as not to miss a photo op! Interesting - I'm still driving a black vehicle with oversized tires and driving lights. The more things change, the more they change the same...

Mike had recently visited Ted's first geocache ("The Evil Black Cache") and retrieved Ted's Jeep Rescue. So he logged it through this cache and I took a picture of the first ppro Jeep Club Reunion.
Then we continued on our way. I had added a couple potential side trips to our itinerary. We happened to be very close to Backbone Mountain so I swung down the trail to the entrance to see if the gate was open. It was not, but we had a nice short ride on the gravel road leading in and out to the gate. And interesting personal history note: Backbone Mountain was the first place a I used a GPS - that was back on June 24, 2001 - almost five years ago.

Another side trip was a visit to Pinnacle Lookout Tower near Keyser, WV. I was curious to see if Allegany Wildlife Management Area trails were still closed. They were. But we drove up to the lookout tower and took in the view. It was very windy and temperatures were in the 50's so we didn't stay long.
We drove into Keyser, got a little off-route owing to the bridge running over the street we wanted (display on the GPS is not real good at showing overlays) but once on track I noticed a geocache adjacent to the road. We took the slight side-trip and soon found the millmeadow cache. It was a real nice park in a part of Keyser that I have not visited in many trips. Shame on me!
After that we settled into the drive down to Camp Wapocoma. We wove our way through Romney, and pretty soon we reached the campground. I was pleased that I managed to locate it on the map to within one hundred feet for I could not find any detailed directions and had triangulated on what I found combined with Jim's estimate. Close enough for horseshoes and hand-grenades!

Wapocoma Family Campground

We found the campground large, bright, shiny and clean. The campground hosts were very personable and gave us good info about rates, booking and so on. The camp store has a good selection of items that campers need, and there is plenty of parking.
Wapocoma Family Campground Info Sheets
We thanked the hosts and took a drive out to the campsites. It's wide open with the river on two sides.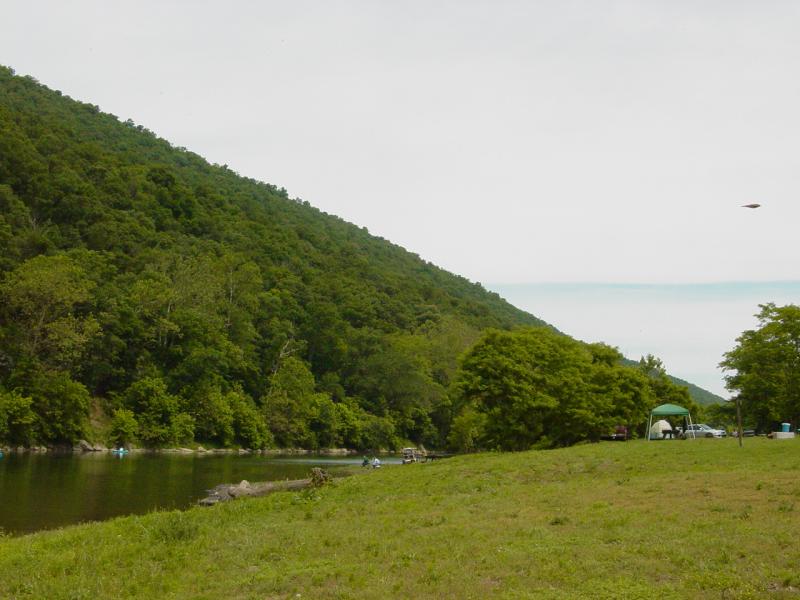 There is a nice playground for the kids.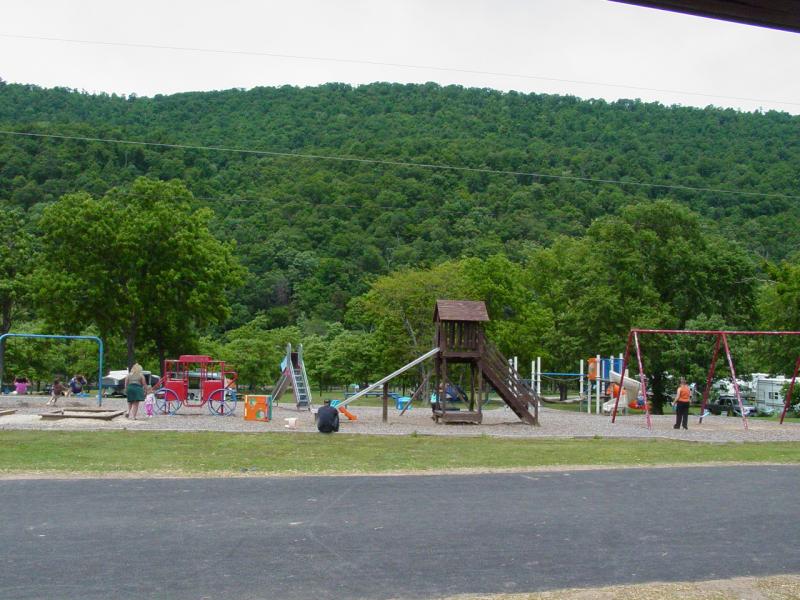 The Bath House is good, certainly not a 5-star hotel, but lots of room, clean, and hot water in the showers.
Here's a shot of the campground entrance.
The campground checked out so we headed down the road to scout out places to put in and take out the canoes. We can even take them out at the campground though it appears the extra miles from the outfitters will cost extra and the time to get there might be more than we really want to spend on the river.

The first place we checked looked good and the field we drove through to get to it was beautiful.
Back on the road we passed some nice scenery and our first glimpse of the Trough.
Trough General Store

We reached the Trough General Store in good time, first checking out the take-out area down by the river. This is likely to be the place we end our canoe trip - right at the canoe outfitter. But I am getting ahead of the story.

Trough General Store Flyer

We met the owners and their parents, from whom they bought the operation some years ago. Together they have been at it for some time. We enjoyed a nice visit and also observed them going about their business of getting a group ready to go out. The operation looked well-run and efficient.

I broke off and went inside the store to have a look around. There seems to be a good assortment of stuff available, again to meet the needs of the campers and hunters in the area.
We got a few flyers, prices and schedules, said our "Good-Bye's" and hit the road again to check out the put-in spots upstream of The Trough.

I had this crazy idea we could reach Slopping at the Trough cache by land. When it appeared on the map, I started watching for roads off to the right (we were driving south) and soon I found one. It went up into the woods so I dropped the Jeep into 4-LO and off we went. Pretty soon (too soon) we encountered some tree fall. There were ways to get around it, but thinking about it a little more, and looking at the map, the top of the ridge and the river level were a great distance apart so any road that went down the other side (if there is one) is probably a couple miles long. We still had a few errands to make. So I turned the Jeep around and backtracked to the road.

We soon came to McNeill's Public Landing. To get there, we drove through a field complete with a very territorial bull. I was waiting for him to mistake the Jeep for the new bull in town but fortunately he just strutted around making sure we knew who was boss and we took our time getting past him and his harem.
In the distance we could see The Trough.

The river at McNeill's landing is nice. The banks on the western side of the river are steep and high. "Sheer cliff" pretty much comes to mind...
It's a little bit tough footing but the adults will have little trouble and can help the kids.
We won't really need the parking for the group using the shuttle service but for those with their own canoes, the parking is plentiful.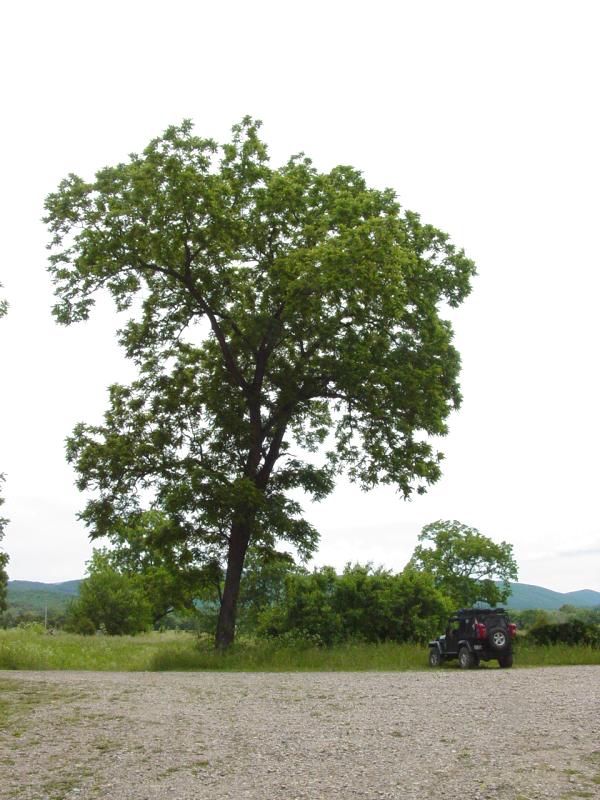 Time for some fuel. The Super Siphon comes in real handy!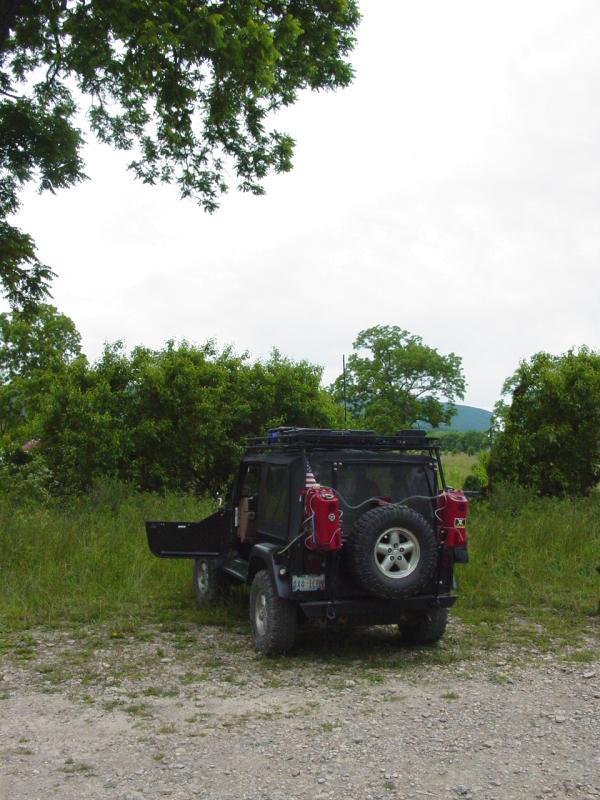 The Trough General Store shuttle vans with canoes came to launch two groups while we were checking out the area. They went by and down the road a little ways where they put in.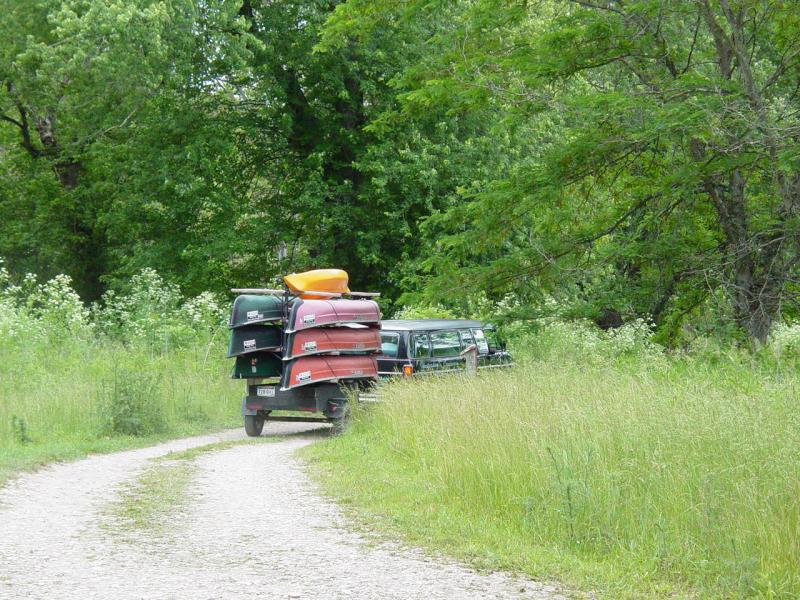 I drained the spare gas cans into my tank and we talked for a few minutes. Then we buttoned everything up and got back on the road. We drove to the put-in location near the bridge on the way to Eagles Nest Outfitters. We wanted to check out one more set of options to make sure we understood the choices available to us.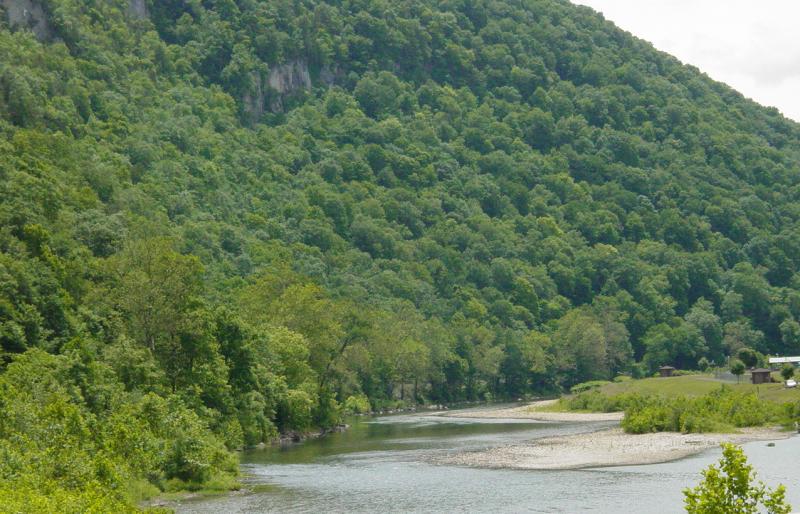 The put-in spot at the bridge by Cunningham Lane was nice, though quite distant from our objectives. We continued to Eagle's Nest Outfitters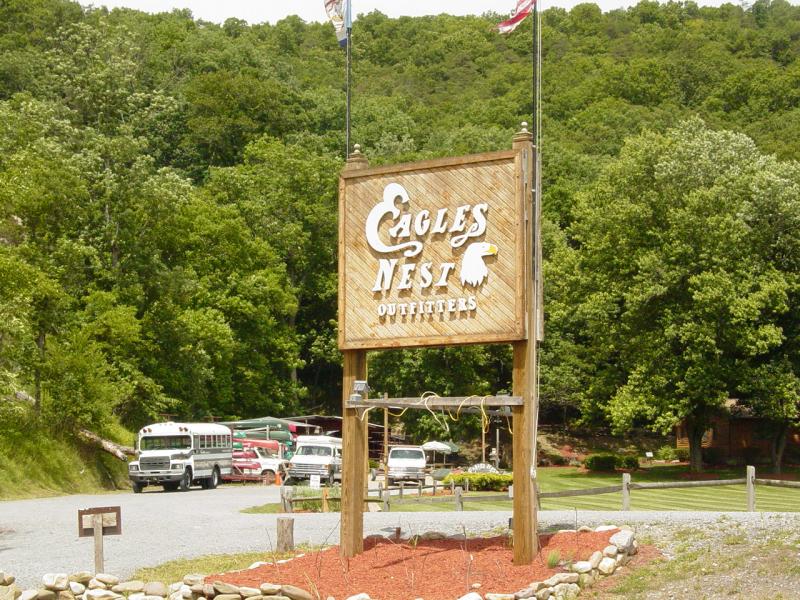 We inquired about the canoes, shuttle service and terms, got prices, brochures and thanked them for their time. They also have a nice operation. For our group there seemed to be some disadvantages if we were to use Eagle's Nest. They are farther away, would put us in farther away from our objective, and they were a little more expensive. They also would charge more to put us in closer to our endpoint. We thanked them and headed into Petersburg for some late lunch. The Hermitage was closed (Sam S. recommended it to us) so we went to another small place and had steak and cheese sandwiches. Good stuff! On the way out of the area I refilled all the tanks with gas.

After lunch, we got back on the road headed in the general direction of home. I saw a sign for Dolly Sods and asked Mike if he wanted to make a detour? He was in, so we shot off and soon reached the summit at Bear Rocks. As always, the natural splendor was in full bloom. The plants were flowering, the air was clear and crisp, and the sky was almost too blue to believe.

We took the opportunity to head over to the site of another Geocache - Dolly Sods. This one was to elude us. The location is described as "8 feet below the edge". We got over the edge and close to the precipice but could not put our hands on it. While frustrated that we could not find it, we still enjoyed the location. Mike and I both spent some time making photographs and just taking in the views.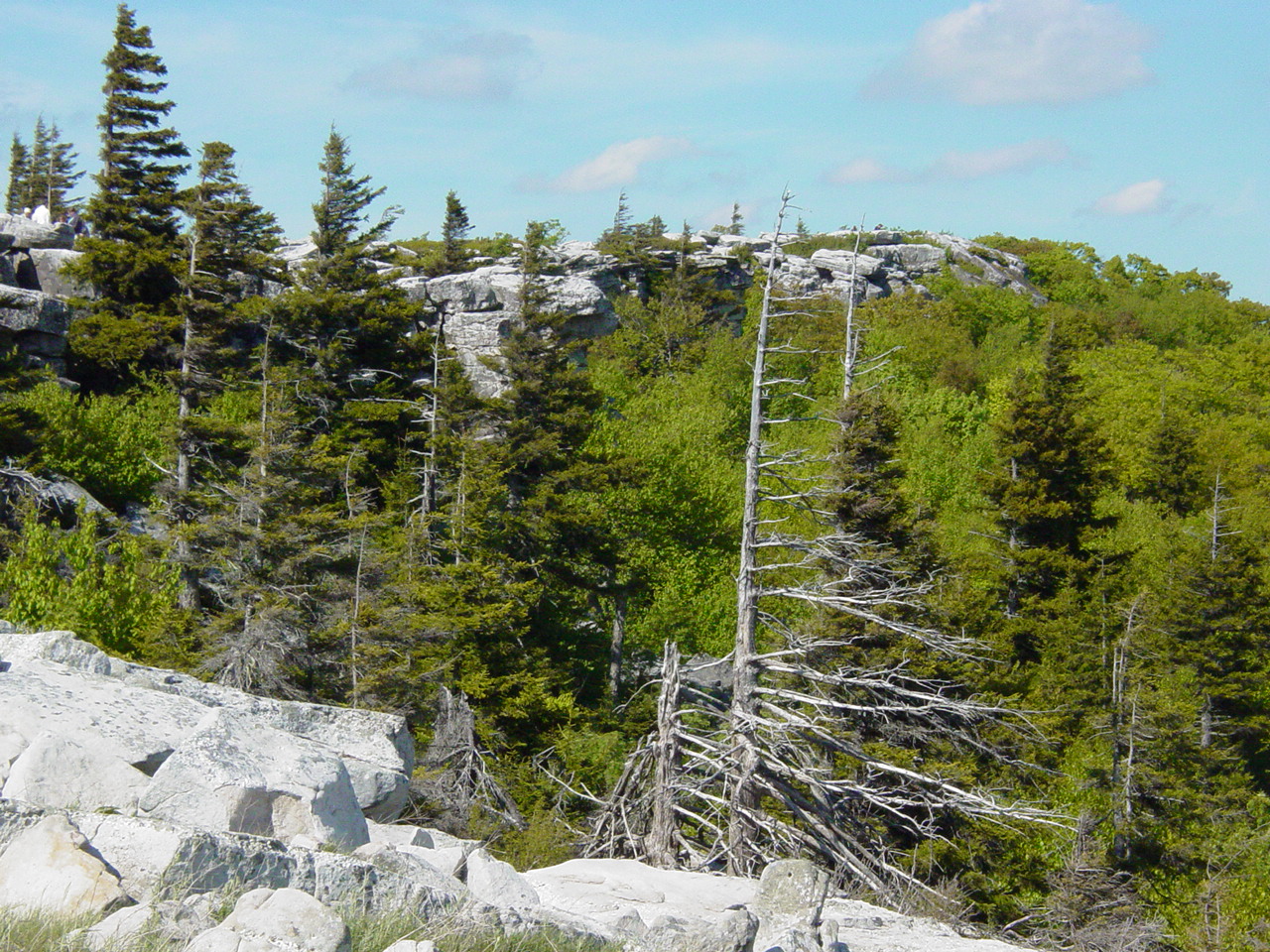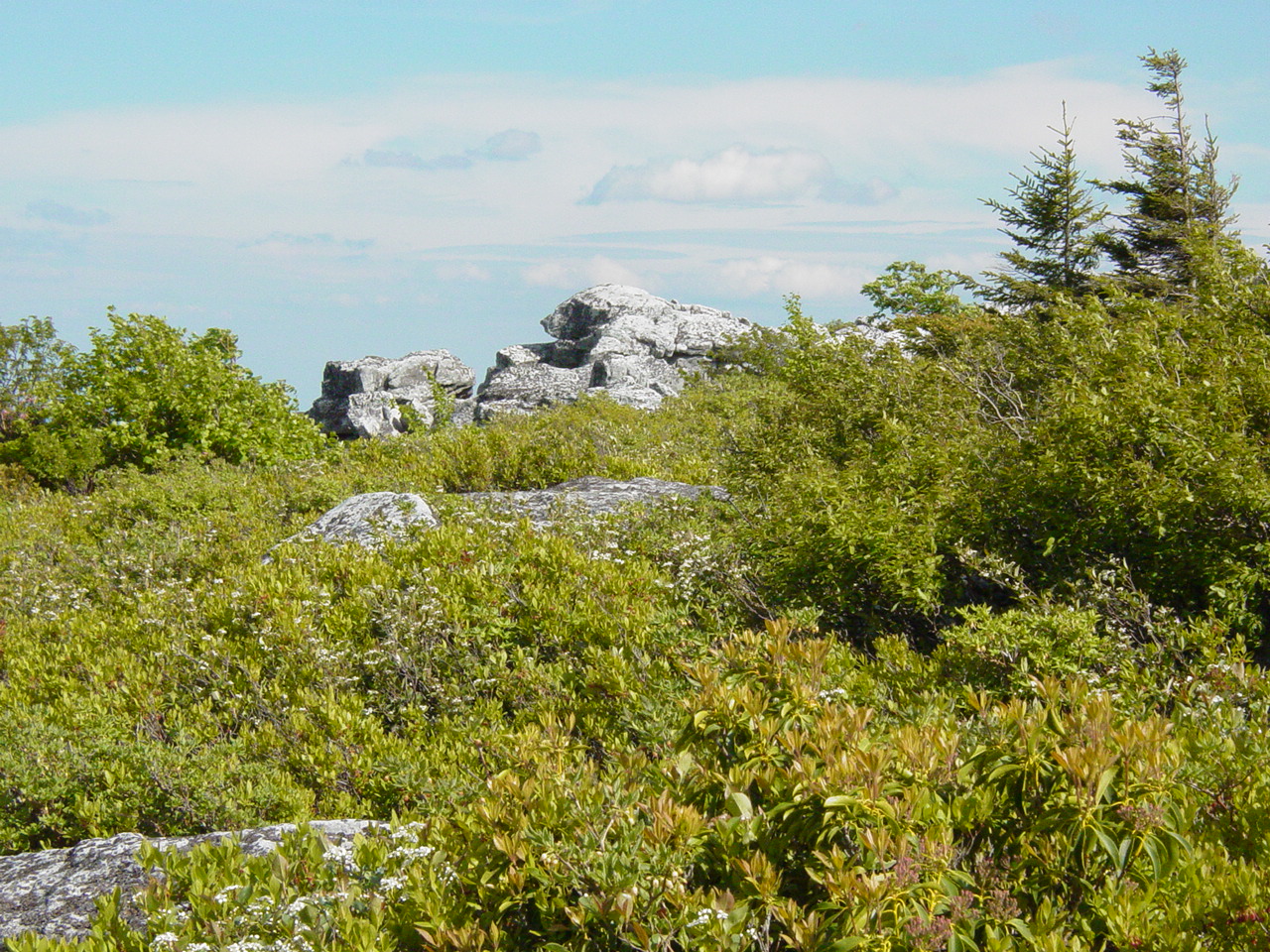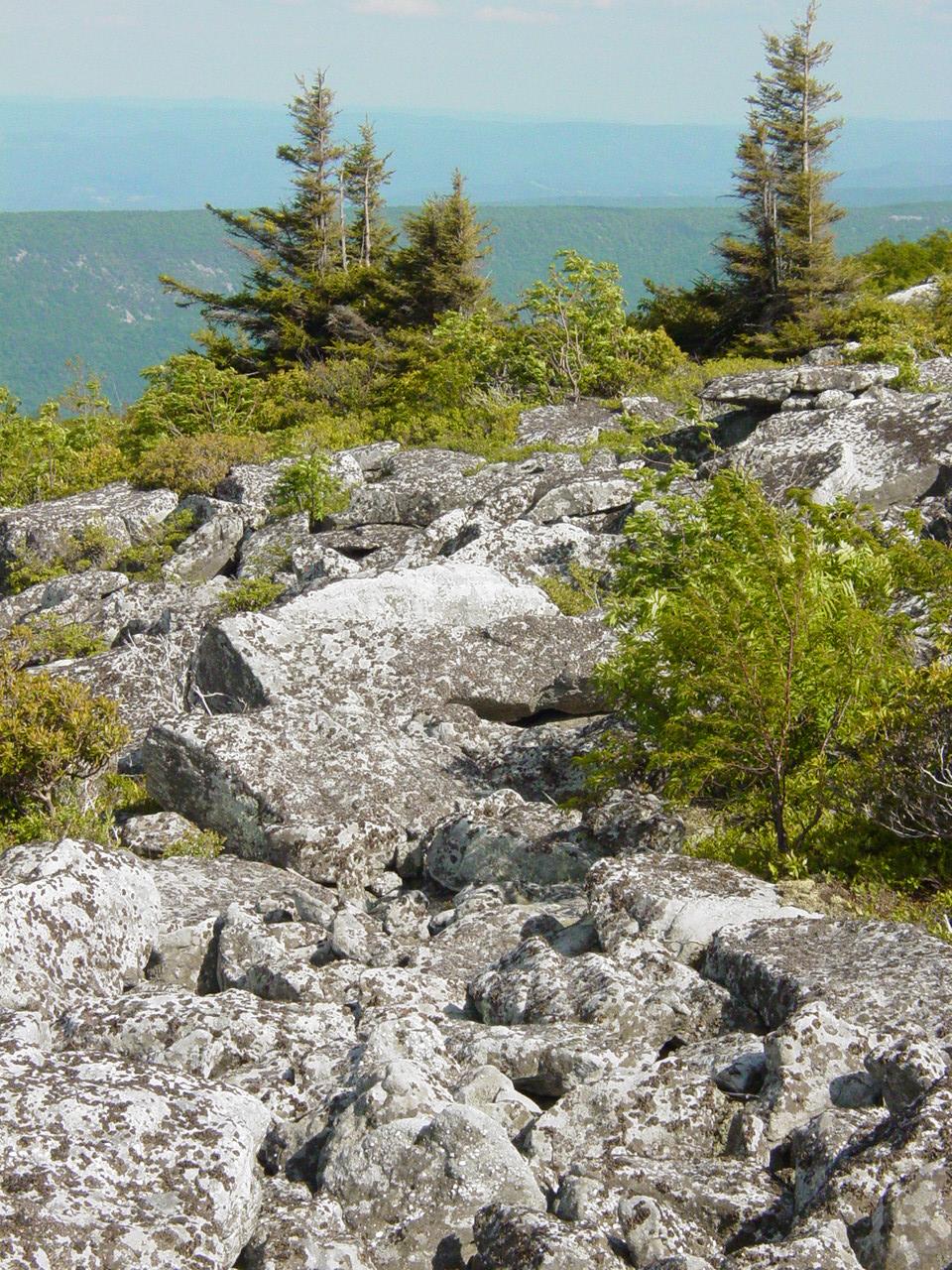 Refreshed from our visit to Dolly Sods, we backtracked down and hit the road for home. Along the way we visited one more cache, Fort Ogden.

We really had to push through some ground obstacles to reach the cache but once there found it quickly and took care of business.
Epilogue
After visiting the cache, we stuck to the road and soon reached home. Mike shifted his gear to his truck and we parted company. It was a very full day. We found a few caches, identified our outfitter, campground, and laid out the basics of our planned trip for August. It was a day well spent. We had some ups and downs (see the chart below) - it was all good!