Big Levels / Shoe Creek
4/21/02
Big Levels: Way Points

Big Levels | Shoe Creek | Items Used | Jim Culfogienis' write-up and photos
---

Big Levels / Shoe Creek GPS Data

Update 1/5/2008: GPS Data now provided in GPX format for easy transfer to your GPS!

Purchase GPS Waypoint data and access to topographic maps of this trail using Pay Pal!

GPS Waypoint data is now available for a moderate fee ($10.00 U.S.).

This contribution allows us to maintain this web site, collect and maintain GPS waypoint data, and periodically verify its accuracy. All GPS Waypoints have been verified in the field.

If you would like to purchase the coordinates for this trail, simply complete the two questions below and click "Buy Now" to pay for your purchase using Pay Pal.

For a free sample of how our GPS data is presented to our customers, click here.
C.O.R.E. Trip | Accommodations | Jim Culfogienis' write-up and photos
IMPORTANT - After you pay with PayPal be sure to click the orange button shown circled below from the PayPal Payment confirmation Screen to go to the GPS Data you purchased!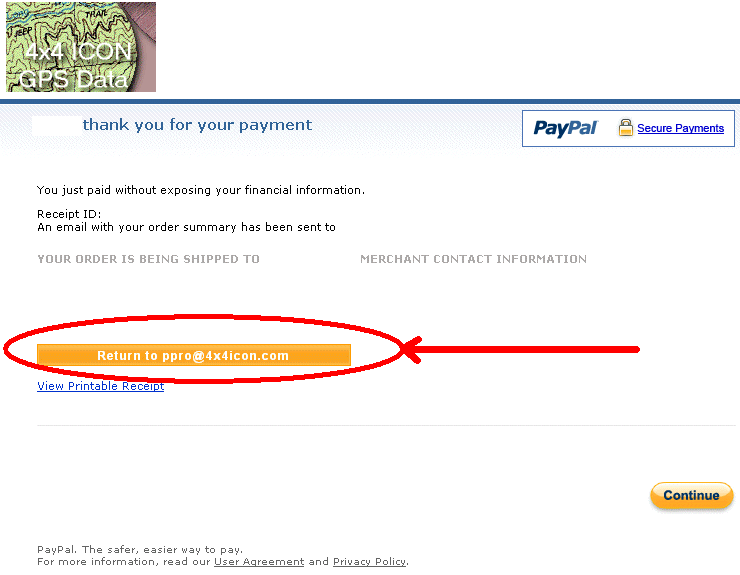 ---
Items Used on this Trip

I have added this section to keep track of items carried along routinely are that are used on the trip, and any special significance to this use, if appropriate. This may help to emphasis the importance (or lack thereof) of these things. In most cases, the inclusion on this list suggests that the item was "essential" to the trip. In some cases, this merely indicates a matter of greater convenience or personal preference; in other cases, the trip would have been difficult, impossible, or nightmarish without the item. The trip report will certainly reflect the severity of need for each item.

There are two classes of items - those attached to the Jeep more or less permanently that did not come with the Jeep; and those "readiness items" that I carry "just in case". I will only mention those items that were actually used and made a difference. I will also list items that I carry that may have been used by others (they too carry these items and may have used their own instance of this item - the point being that someone had this available).

In this way it might be possible over the course of several trips to determine what the incidence of use of these items, and from that to suggest what items are most important to add to a mod list first.

This list is not comprehensive - it is a summary of what was used on this trip. I carry considerably more items in the event of more difficult circumstances.

Air Chuck & gauge
Air Down/Up
Quick Disconnects
Disconnect sway bar
Camera & film
photos
GPS
locating trail head and obstacles known in advance, coordinates shared with other members of group
Maps
survey of the area prior to trip
CB, Weather Radio & Antenna
road and trail communication
Engine Skid
ramp to transfer case skid on one obstacle
Steering Box Skid
protection at various rough spots
Gas tank skid
protection at various rough spots
Rocker Rails
pivot around log, protect rockers
Springs
clearance and load balancing
air tank, hose and compressor
air up tires
rack
carry tools, Hi-Lift, water, protect roof
leather gloves
remove and replace disconnects
Jacket
rain protection
Sun glasses
glare and bright sun protection, see through fog
hat
wind protection
snacks and food
eating
pencil and paper
record waypoint notes for later
credit card, cash
gas, dinner and snacks
Lev-O-Gage
get Jeep level to re-connect Sway bar
Bow Saw
remove some deadwood for easier passage
Back to Off Road Index
Shop for Jeep Toys and Books | See the Toy Jeeps
---
Photos, Layout and Design © 2001-2008 Paul M. Provencher All Rights Reserved.
Contents of this Web Site may not be used without written permission.
Visitors Since 4/21/2001
Last Updated 02/09/2008 10:33:36 AM -0500
1588 4/6/06